Written by Marcie Kamb, November 19, 2020
You are invited…scan, scan, Zoom, Virtual Open House, Center on Education and Training for Employment, scan, scan, costume contest…yet another invitation to a once in-person event now turned virtual…and on a Thursday afternoon?! I do like CETE and wonder what they have been up to. Maybe…accept invite.
Does this scene sound familiar? We get it! You have probably been to hundreds of Open Houses in your day and were excited to see friends and colleagues, sample the cheese tray, and hear about the recent successes of host organization. Now this is on Zoom where you have been spending an awful lot of your time.
Fast forward to Thursday, October 29, 2020 at 3:00 PM, a day that will remain one of the top five best days of your entire life. You accepted, you attended, and your mind was blown. You were also probably wearing lounge pants which was okay by us!
The theme for the Center on Education and Training for Employment's 2020 Virtual Open House was Reimagining the Center on Education and Training for Employment. The emcee was CETE's own Sean Hickey, an incredibly animated associate who kept the event flowing with music, digital special effects, and transitions that left the 62 attendees energized and wanting more.

A photo collage slide-show set to BTS's Dynamite kicked off the event, setting the stage for Dean Don Pope-Davis' opening remarks focused on CETE's innovation and ability to maximize creativity during a pandemic under the leadership of Director Dr. Ana-Paula Correia. Dr. Laura Justice also shared thoughts on CETE's ability to flourish as a thought leader and propel research into action during such an uncertain time.
CETE Leaders Dr. Ana-Paula Correia, Director, Traci Lepicki, Associate Director of Operations and Strategic Initiatives, and Dr. Melissa Ross, Associate Director of Research Partnerships and Impacts shared presentations that captured the ongoing achievements of the center during a time of crisis, including new and enhanced collaborations, entrepreneurial spirit, and the vehement pursuit of racial justice. Highlights included the efforts towards an emphasis on communication, collaboration, and innovation.


The chat was infused with greetings, private messages between old friends, jokes, hashtags and 🥳🍿🧤👻. Participants interacted at all levels to keep the party going.
Attendees then engaged with the Imagination and Creativity Costume Contest. Hickey took participants through a roll call and individuals were able to share their inspiration for their digital or physical costume transformations. From Miss Piggy to a Katniss in a Hunger Games arena, the participants were excited to showcase their quirky/playful/avant-garde sides and take the event to the next level.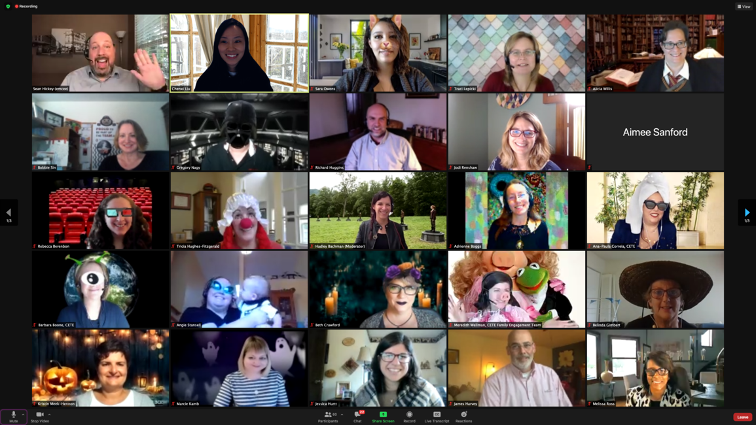 First, second and third place awards went to CETE's own Angie Stansell, Alicia Willis, and Meredith Wellman for their exceptional creativity. Others did not leave empty-handed, and received a digital swag bag featuring learning resources, inspirational works, conversation starters, and an offer code to take CETE's new Making Training Virtual online module free of charge.

The event concluded with more fresh musical beats and the Zoom camera squares disappeared one by one. Some attendees actually did not want to go and requested more interaction through the chat. Sadly, all good things must come to an end and the CETE's 2020 Virtual Open House is no exception. However, it certainly didn't feel like a goodbye. It felt very much like a see you next time. Stay tuned for an invite to the 2021 CETE Open House. It may be in person, it may be virtual, it may even be in outer space. One thing we know for sure is that it will shatter expectations for what an open house could and/or should be.