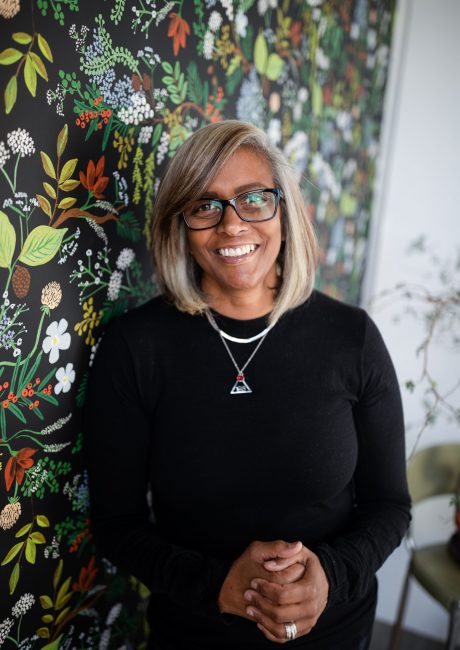 Melissa Ross, PsyD, serves The Ohio State University's Center on Education and Training for Employment as the Associate Director of Research Partnerships and Impacts and a Program Director for the center's Equity, Engagement, and Evaluation team. She received her clinical training at the Wright State University School of Professional Psychology. As Associate Director, Dr. Ross establishes and cultivates research partnerships, manages the center's faculty and student program, and supports CETE Associates' engagement in translational research, scholarship, and student instruction.
As co-director of the center's Equity, Engagement, and Evaluation program, Dr. Ross leverages her extensive experience in project management and partner relations to assist organizations and communities to achieve desired outcomes in an efficient and effective manner. She has managed large scale, multi-collaborative professional development, and coaching projects. Products and lessons learned from past projects serve as the basis for her current work.  The work of serving vulnerable populations (including marginalized populations, early learners, students learning English, and special education students) is embedded in her day-to-day work and practice.
Dr. Ross also spearheads The Center on Education and Training for Employment's Racial Equity, Diversity and Inclusion (REDI) Movement and serves as an advisory member of the REDI Steering Team. REDI is designed to increase members of the CETE community's knowledge and skills relevant to the posture and practice of cultural humility, identify and establish anti-racist norms, practices, and policies at CETE, and contribute to the dismantling of institutional racism within CETE's spheres of influence. In 2021, she was the recipient of the College of Education and Human Ecology's Distinguished Staff Leadership Award.
Prior to accepting her current position with The Ohio State University, Dr. Ross served as a Deputy Superintendent of Programs for the Ohio Department of Youth Services. While in that position, she oversaw all social, health, education, religious, and recreational programming for a 240-bed correctional institution that served youth aged 12 to 21.
Research Interests
Behavioral Aspects of Health

Interventions that promote health and wellness

Community/Youth Development and Organizations

Community planning for health and social services
Policy development
Program evaluation

Family and Community Human Services

Planning and evaluation to promote effective health and wellness services

Translational Research