Written by Marcie Kamb and Ruth Ann Falconer, September 1, 2021
Ruth Ann Falconer joins the Assessment Program as a program coordinator and has dedicated her entire career to education, including her roles as a business education teacher, as an Ohio Department of Education (ODE), Career-Technical Education (CTE) Business Education Supervisor, and a Tech Prep Coordinator for Ohio's Tech Prep Central Region. She also owns a consulting business where she served the Center on Education and Training for Employment (CETE) as a consultant, facilitating item writing workshops and recruiting subject matter experts (SMEs).
"While many people may believe developing assessments is a dry, uninteresting topic, the CETE Assessment team makes it enjoyable. There is always a chance to learn and the atmosphere and people who work at CETE are extremely friendly. I also always appreciate an opportunity to learn, meet new people, and keep in contact with those in the education field that I already know." Falconer shares.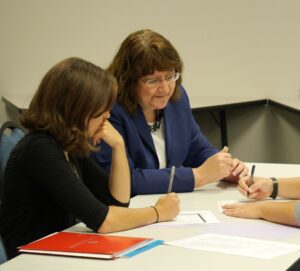 The development and administration of assessments continue to transform as schools and organizations modernize their procedures. In her ODE role, Falconer has had the privilege of working with CETE to develop assessments and watching as the systems evolve. "It's exciting to be a part of the continued development of new systems. Technology will continue to bring new opportunities, such as the possibility of moving to online proctoring of test-takers," Falconer states.
The pandemic forced the change of conditions and contexts of administration across organizations and schools. Falconer shares ". CETE's Assessment Program had to adjust processes and protocols in real time as the pandemic hit and continues. As it forced a shutdown of all in-person workshops, the team made necessary modifications to continue their work. Some of the changes forced by the pandemic have turned out to be beneficial, and others continue to be fine-tuned. The Assessment Team's ability to reimagine, redesign, and implement processes based on the client's needs and changing environment is certainly commendable."
The National Academy of Education's report states "Systems of assessment would serve the improvement of institutions, the improvement of teaching and learning, the improvement of teachers, and the improvement of students. To accomplish this, we need to encourage appropriate, mindful, and documented flexibility and innovation to see what works and when, and then the results can be used to encourage some degree of uniformity at a more macro level."
Falconer looks forward to being a part of the team that innovates to improve these institutions, the field of teaching and learning, and meeting the needs of students.