Written by Marcie Kamb, August 31, 2022
CETE expands the growing community of experts by adding Family Engagement Learning Coordinator Sarah DeShon to the Family Engagement program. This new role will design and facilitate research-based professional development for out-of-school-time personnel and other family-facing professionals, helping to build their capacity for equitable family engagement.
CETE's Family Engagement program is home to the Ohio Statewide Family Engagement Center, offering a myriad of free learning experiences including the annual Leadership Summit, recorded videos, podcasts, monthly News & Guidance newsletter, research briefs, and online courses.  Sarah will add tremendous value to these experiences as a former classroom teacher of 14 years in northern Indiana and has learned and experienced the important role all families, schools, and communities play in the success of student achievement and wellness.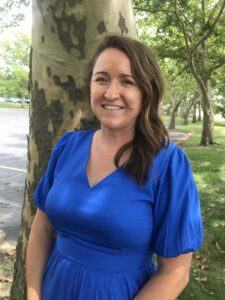 Educators are offered countless professional learning experiences these days, and sometimes they reach a point where they feel overwhelmed with the trends and demands, and changing requirements of the profession. For organizations like CETE charged with coming up with high-quality learning experiences that make the most of educators' and others' valuable time, it's critical to determine how to make an impact.
Sarah reflects on the key components of what makes these learning experiences helpful, rather than a burden for participants both inside and outside of the walls of the classroom. " I think active ingredients for high-quality professional development acknowledge and value the background and experience of the participants. Professional development should be interactive with engaging protocols for discussion and feedback. A goal would be for participants to leave having an action plan or activity or idea all set to implement the next day."
Sarah also served on the Teaching and Learning Committee and the School Leadership Team at an Expeditionary Learning (EL) school, which focuses on the whole child and understanding the value of schools, families, and communities working together.
"We are one big 'crew' at EL schools, and they also prioritize extensive professional development for their teachers. My knowledge around creating engaging, real-world, hands-on units and lessons grew with every conference and workshop I went to." Sarah said.
When she is not at the office, she maximizes her own learning experiences and becomes one with nature. She spends time running, kayaking, hiking, and fishing. Perhaps she can lead sessions for CETE on how to bring the great outdoors into the workplace. Is anyone ready to take that Zoom call while enjoying the fall foliage around The Ohio State University's Mirror Lake?