Written by Dr. Belinda Gimbert and Marcie Kamb
Transitioning back to school or starting for the first time in the school year 2021-2022 can create extra challenges during a pandemic for students and their families.
Dr. Belinda Gimbert, Program Lead of the Professional Learning for PreK-12 Educators Program at the Center on Education and Training for Employment, offers insight into how her team is helping educators, families, and students transition back into the classroom.
"Our focus is on what parents and teachers can do to help children make a successful transition to in-person learning. Virtual connections with our English as a Second Language (ESL) families, such as videos and text messages keep parents updated, and a virtual tour of our schools in their home language allows families to see the facility and classrooms and imagine what it will be like for their child to attend." Gimbert states.
This infographic provides four strategies Dr. Gimbert's team is implementing to help ease this transition.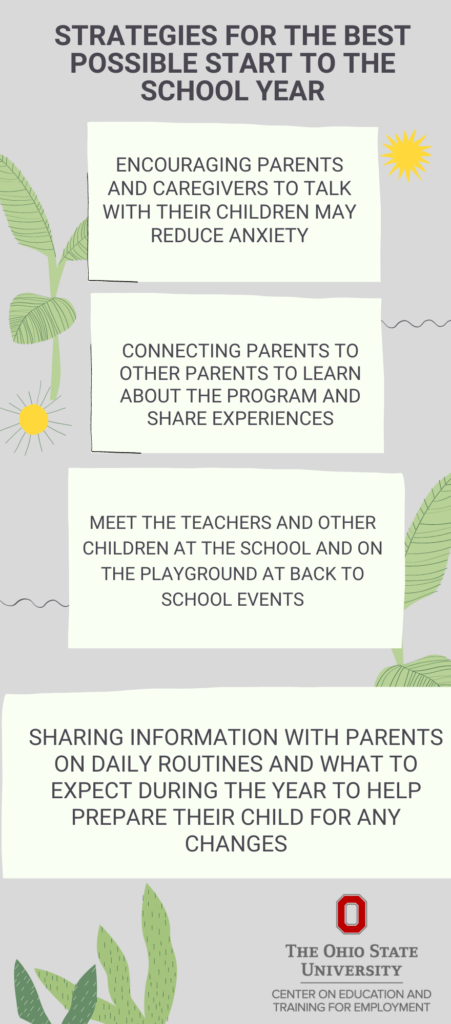 About the Professional Learning for PreK-12 Educators Program
This program provides educators on Ohio's Alternative Resident Educator pathway with training in order to meet initial teacher licensure. Completion of the Intensive Pedagogical Institute (IPTI) and the Professional Development Institute (PDI) fulfill steps on an accelerated pathway to classroom teaching. This allows students, schools, and communities to benefit from the candidates' content-related knowledge, life experience, and successful career experience professional learning for PreK-12 educators. Prospective and current classroom teachers experience training to attain an initial teaching license, as well as advance to and maintain a professional teaching license.
The Educators and Families for English Learners (EFs4ELs) partnership is also a part of this program, and is a U.S. Department of Education, Office of English Language Acquisition grant-funded partnership that delivers professional learning, both face-to-face and online, to enhance educators' skills and competencies related to teaching Ohio, Texas, and The District of Columbia's English as second language children.