Written by Marcie Kamb, August 26, 2021
Dr. Gabrielle Hicks joins the Equity, Engagement, and Evaluation Team as a postdoctoral scholar. She is currently involved with the Parent Mentor Project assisting with professional development and bringing her experience with special education and a PhD in Educational Studies (focus: School Psychology) from The Ohio State University to advance the work of the team.
"In my previous role working inside of schools, I loved working with the families. I would write psychological evaluation reports which could sometimes reach 20 or more pages in length. Often, parents and caregivers would reach out with questions or express confusion about the results and what this means for their child. I appreciated the opportunity to help families understand the results of my evaluation and feel confident in their role as a valued team member prior to walking into the special education eligibility meeting. I'm so excited to continue this work with the Parent Mentor project, because their role is to provide that kind of support to families throughout the special education process, which can often feel scary." Dr. Hicks states.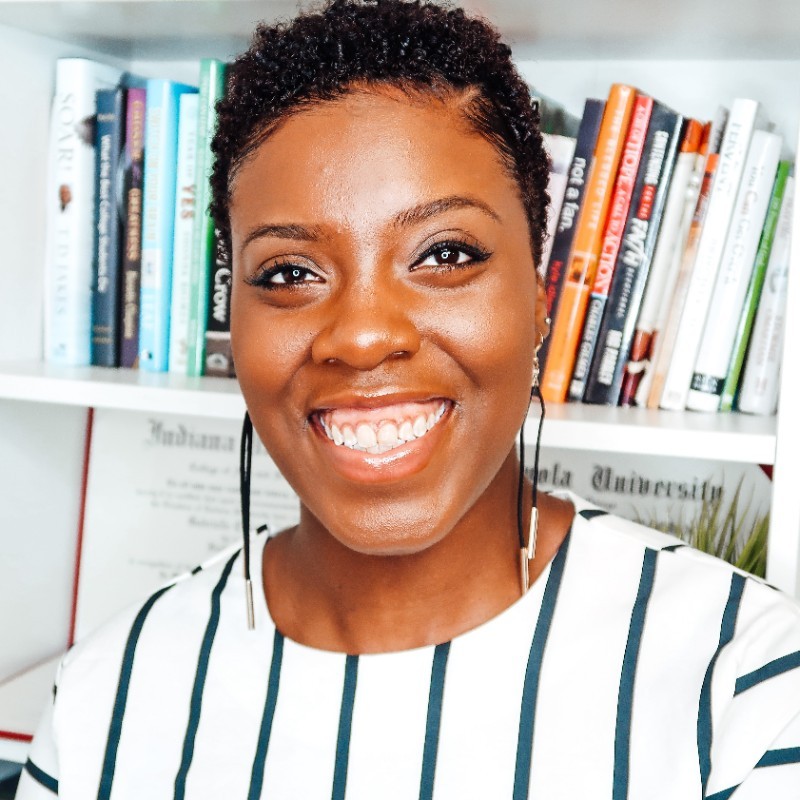 Additionally, Dr. Hicks is working as a research team member for the Staying and Thriving Project as they implement a new intervention this fall that aims to cultivate community with and for Black women undergraduate students in The College of Education and Human Ecology. As a recent Black women graduate of the college and three-time graduate of predominantly White university institutions, she has firsthand experience of the barriers that limit opportunities for Black women to stay and thrive in these environments. She is looking forward to combining her research knowledge and lived experiences to support the advancement of other Black women to reach their academic and career goals.
Dr. Hicks has always been interested in systems-level work and systems-level change.
"A component of my dissertation on trauma-informed practices was looking at the perspective of school-based service delivery through a multi-tiered system of supports (MTSS). The tenets of trauma informed practices serve as a framework of guiding principles for how school staff and administration can build a school environment that is responsive to students who have been impacted by trauma. This requires that schools not only identify students who have been impacted by trauma but also prepare appropriate tools and supports which allow these students the opportunity to thrive academically. This is critical for urban schools where the percentage of students and families impacted by trauma is very high." Dr. Hicks said.
Dr. Hicks served as a school-based consulting member of the Unified Mental Health Team, Child Study Team, and Pupil Services Student Support Team while interning with Loudoun County Public Schools of Ashburn, Virginia. Her experiences on the Unified Mental Health Team, in particular, inspired a portion of her dissertation research regarding the importance of school collaboration. This team was comprised of the school's social worker, school psychologist (her), and school counselor all coming together to provide mental health services to students through an MTSS lens. Pulling in expertise from all three fields provided the students and schools with more benefits than any one field could provide on its own.
As students transition back to school for the 2021-2022 school year amid the pandemic, schools will more than likely be serving a higher percentage of students who have experienced trauma while at home. "Research and life experience make clear to us that when students aren't living in a safe environment, aren't in a safe neighborhood with access to resources, and when their basic needs are not being met, it's difficult for them to perform and function in the classroom. However, the good thing about schools who are trauma-informed is that they will already have plans in place to identify and support students at their particular level of need. Unfortunately, if schools are not prepared in this way, the students are more vulnerable to being mishandled, misunderstood, and even misidentified for special education. This is especially true for minority students who have historically been disproportionately found eligible for special education. We should all want to turn that tide." Dr. Hicks states.
Opportunities keep leading Dr. Hicks back to Ohio, and she knows this opportunity at the Center on Education and Training for Employment on the Equity, Engagement, and Evaluation Team opens a chance to implement system-level changes across the schools in Ohio and work with families, agencies, Parent Mentors, and even students themselves.
Dr. Hicks shares her enthusiasm for the educators, students, and policy makers embarking on a new school year–many of whom are implementing new systems. "I loved school! I was that kid that would get up and start dancing when the back-to-school commercials would come on. My training allowed me to continue to be part of schools and it inspired my passion for systems-level change. Having engaged in local, regional, and national level work and innovation, I know it's possible for systems to shift for the better when we work collaboratively to evaluate what works, identify the gaps, and fill them in with fresh, well-informed ideas for the benefit of all."