Special Education Data Profiles for Ohio School Districts
CETE associates and staff from the Office for Exceptional Children (OEC) at the Ohio Department of Education create, update, and maintain individualized electronic data profiles for approximately 1,000 Ohio school districts. The OEC is required to have a Special Education Profile for each school district that displays the district's performance on Ohio's State Performance Plan indicators.
The Individuals with Disabilities Education Improvement Act of 2004 (IDEA) requires each state to have a State Performance Plan in place. This plan describes and evaluates the state's efforts to implement the requirements and includes annual targets for 20 indicators identified by the Office of Special Education Programs and the U.S. Department of Education.
Some of the indicators measure procedural compliance with IDEA, while others measure outcomes and results for students with disabilities. Understanding the relationships among indicators and considering this when planning for continuous improvement can be a very effective mechanism to provide information about systems change, efficient use of funds, coordinated professional development, and ultimately improved outcomes for students. In addition to supporting continuous improvement efforts, the Special Education Profile informs districts of any findings of noncompliance and required activities that must be completed to achieve compliance in each school year.
Each school district only has access to its own profile. Public access to district profiles is also available so that families and community members can review their district's progress and support the continuous improvement of services and supports for students.
Sponsored by Ohio Department of Education
Project Contact Traci Lepicki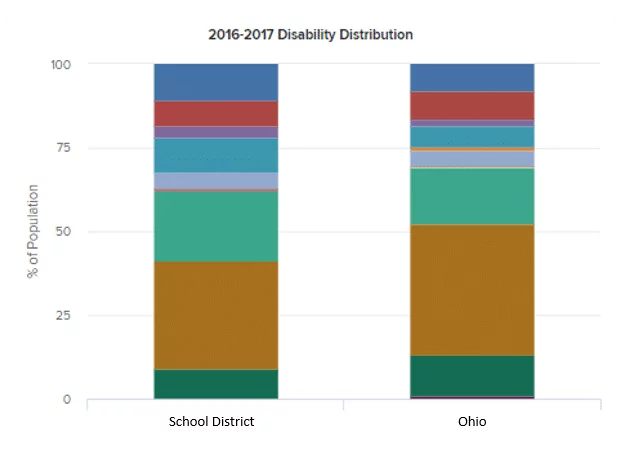 Special education profile graphic sample