Written by Jennie Long, November 16, 2023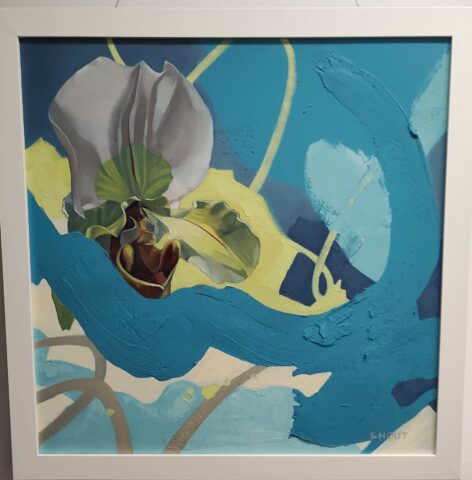 In the ever-evolving landscape of contemporary art, Sarah Hout is a talent that captivates audiences with her exceptional creativity and unique perspective. She has a passion for transforming and infusing spaces with color, light, and LOVE, and leaves an indelible mark with her extraordinary creations. With her combination of skill, vision, and an insatiable passion for her craft, Sarah stands as a beacon of artistic brilliance.
CETE was privileged to exhibit Sarah's work from September 25th to December 31, 2023, in the center's shared spaces. If you would like to experience Sarah's work, stop by 1900 Kenny Rd. on Ohio State's West Campus. You are welcome to drop by Monday to Thursday, 7:30 a.m. to 4 p.m., and Friday, 7:30 a.m. to 1 p.m., through December.
At CETE, we believe that exposing individuals to art and integrating it into the workplace not only enhances the aesthetic appeal of the common spaces but also fosters an atmosphere conducive to creativity and innovation. Art inspires the members of the CETE community and its guests and promotes a holistic approach to problem-solving and a collaborative organizational culture.
Sarah began her journey as an artist in high school. Her high school art teacher recognized Sarah's innate affinity for artistic expression and encouraged her to follow that path. In doing so, Sarah found her passion and her career. Arriving at Columbus College of Art and Design (CCAD), she knew immediately she was where she was meant to be. Guided by an insatiable curiosity and a desire to explore the depths of her creative potential, Sarah honed her skills through dedicated practice and a thirst for knowledge and has evolved into a formidable talent.
Sarah wants her art to change the atmosphere where people can pause, take a deep breath, find calm and peace and a moment of joy. She accomplishes this with her intuitive sense of color, form, and composition. Standing in solidarity with others affected by tragic events of society, she creates art that inspires hope and triumph over struggle. Her pieces resonate on profound levels, provoking thought and evoking powerful emotions as viewers contemplate the deeper meaning behind each stroke of the brush.
Sarah's first mural was at Trader Joe's at Easton. She painted a vibrant depiction of Costa Rica, including a macaw, a surfer on an Ohio State surfboard, and a cheeky monkey! Since then, her murals have graced many diverse places, including Nationwide Children's Hospital, Columbus Metropolitan Library, the Columbus Zoo and Aquarium, the outside walls of buildings, restaurants, stores, schools, nurseries, and restaurants. Her beautiful, awe-inspiring artwork brings others hope, positivity and peace, giving her immense joy. For those fortunate enough to have seen her art, they are left with a lasting impression.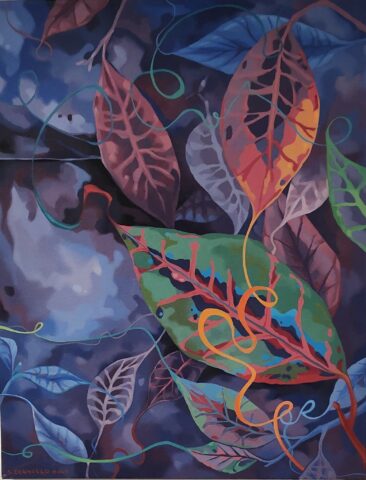 Sarah is a curious person and actively seeks out opportunities to grow as an artist through exploration and play. As she evolves and pushes the boundaries of artistic expression, her future holds boundless potential. With her unwavering dedication to her craft and her commitment to exploring new realms of creativity, this gifted artist is on an exciting trajectory. Every new creation solidifies Sarah's status as a luminary in the contemporary art world.
Sarah Hout is a testament to the power of artistic vision and the potential that lies within a passionate and dedicated artist. Her work transcends mere aesthetics, offering a profound exploration of the human experience. As Sarah continues to forge her path, one can only imagine the heights of artistic brilliance she is destined to reach, leaving an enduring legacy for generations to come. Thank you, Sarah, for showing your work at CETE.
Follow Sarah Hout's work on Instagram at https://www.instagram.com/sarahthehout/