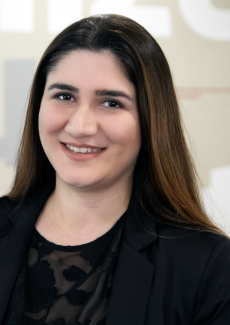 Mehrunnisa Khanzada is a Translational Researcher on the Equity, Engagement and Evaluation program team at the Center on Education and Training for Employment (CETE). She holds a Bachelor's in Science (Honors) in Clinical Psychology with a minor in Law and Sociology from University of the Punjab and a Master's in Public Administration and Leadership from The Ohio State University.  Mehrunnisa is a trained in Adult Mental Health First Aid (MHFA) certified by the National Council for Mental Well-being. She is a skilled evaluator and program manager with a wealth of experience managing a variety of data sets, as well as field experience.  She has almost a decade of experience working at The Ohio State University in partnership with federal and state organizations on research activities including survey instrument design, administration, programming, and implementation. 
The work of equity, inclusion and centering community voice is central to Mehrunnisa's approach to her work. She brings her learnings and experiences from her clinical psychology internship abroad engaging with diverse communities to her evaluation and project management activities. She is a self-driven learner and has a enduring sense of authority with care and compassion for the people. Mehrunnisa also serves as a member of CETE's Steering Team for the Racial Equity, Diversity, and Inclusion (REDI) Movement.  REDI is designed to increase CETE community members' knowledge and skills relevant to the posture and practice of cultural humility, identity and establishment of anti-racist norms, practices, and policies, and contribution to the dismantling of institutional racism within CETE's spheres of influence.  Her immigrant background and educational experience offers a unique lens to CETE's REDI Movement and to her work as a translational researcher. 
Research Interests 
Translational Research

 

End of life decision making

 

Adolescent and At-Risk Youth

 

Risk and protective factors

 

Stigma reduction

 

Behavioral Aspects of Health

 

Interventions that promote health and wellness

 

Community/Youth Development and Organizations

 

Community planning for health and social services

 

Community engagement

 

Multicultural and Equity p

olicy development

 

Program evaluation

 

Family and Community Human Services

Planning and evaluation to promote effective health and wellness services.