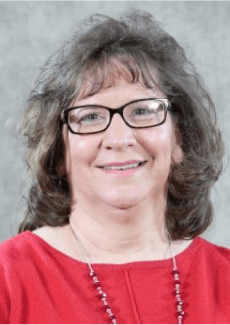 Janine Dotson joined the Center on Education and Training for Employment as a Program and Building Coordinator in 2019. Expanded Fiscal duties have seen her position description updated to Fiscal Coordinator as she works closely with Donna Smith, the center's Fiscal Officer. Janine is from the Urbana, Ohio, area and studied at Ohio Christian University and Urbana University.
Janine Dotson has an extensive background in billing, receivables, and bookkeeping, with a strong focus on customer service. Her career in higher education began at Wittenberg University, where she gained experience in academic services before coming to OSU and the College of Education and Human Ecology Service Center. She lives in Springfield, OH, and enjoys experiencing the sunrises on her commute to work.
She is married to her husband Tim and has 2 wonderful children; Ben (Taylor) of Beavercreek, OH, and Alyssa, who lives in Austin, TX. Luckily for Janine, traveling to Texas means she is steadily accumulating a lot of air miles. She has many interests, including music, movies, gardening, sewing, and reading.  Most recently, her favorite interest is her adorable grandson, Ryker.