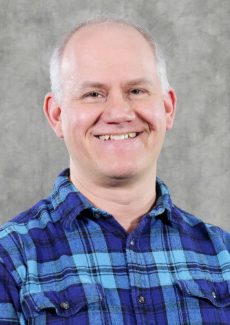 Greg Nagy is an Application Developer 3 at the Center on Education and Training for Employment (CETE) at The Ohio State University. He builds online courses and content, creates websites, and captures and edits audio and video. In his 22 years at CETE, Greg has built dozens of online modules and courses and created multiple project websites. He is good at working on technical projects as well as communicating with others. Greg is currently building VR and game experiences for education and training.  
Nagy is also learning to use generative Artificial Intelligence for use in education. His skills include WordPress and Moodle administration; managing project deadlines; working independently & in team environments; supervising/assisting other project members; using software video & audio editing tools (Adobe Premiere Pro and Adobe Audition); using instructional design software (Articulate 360); facilitating online item writing workshops; and PHP and MySQL programming.  
Nagy has co-presented on topics like e-Learning, Virtual Reality, and Gamification at multiple conferences. He serves as a founding member of CETE's Steering Team for the Racial Equity, Diversity and Inclusion (REDI) movement. REDI is designed to increase members of the CETE community's knowledge and skills relevant to the posture and practice of cultural humility, identify and establish anti-racist norms, practices, and policies at CETE, and contribute to the dismantling of institutional racism within CETE's spheres of influence. 
Nagy has an engineering degree from The Ohio State University. He is good at explaining complicated ideas in simple language. He enjoys learning something new and sharing his knowledge every day.