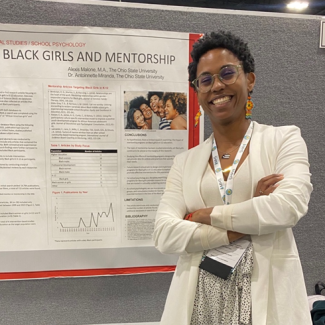 Alanis T. De La Cruz Pérez, M.A. is a Graduate Research Associate working with the Ohio Statewide Family Engagement Center at the Center on Education and Training for Employment (CETE) at The Ohio State University. Alanis will be collaborating with Dr. Barbara Boone and Yesenia Alvarez Padilla to develop a comprehensive resource guide for multilingual learners and their families as part of the Advancing Ohio's English Learner's Project. In 2022, she worked as a research assistant on the "Staying and Thriving" project for CETE under Dr. Kenyona Walker and her team.
Alanis is a PhD Candidate in the School Psychology program at the College of Education and Human Ecology at The Ohio State University. She received her Master of Arts in School Psychology from The Ohio State University in 2021. Before entering OSU, Alanis received a Bachelor's degree in Psychology from the University of Puerto Rico – Recinto de Río Piedras and completed two minors in Women and Gender Studies and Human Rights. Her academic research interests center around Afrolatinx identities and sense of belonging, mental health topics surrounding minoritized youth, and suicide prevention.
In the schools, Alanis brings a wealth of experience developing academic, behavioral, and mental health interventions with an array of student population including students who primarily speak Spanish and Swahili in Columbus, OH, and San Juan, Puerto Rico. Alanis is driven by her passion for helping youth succeed and do their best while creating a safe space for them.
In her free time, Alanis enjoys yoga, weightlifting, salsa/bachata/merengue dancing, being with friends, and reading. She is a lover of everything regarding bell hooks. Alanis is originally from San Juan, Puerto Rico, but also proudly reps her parents' island, the Dominican Republic.