The Center on Education and Training for Employment (CETE) first sparked the interest of new hire Rebecca Berenbon when she was a graduate student in The Ohio State University's Quantitative Research, Evaluation, and Measurement (QREM) program. "I was originally introduced to CETE in an item response theory course and we did a project where we worked with data sets provided by CETE. When we presented our analyses, Dr. Jim Austin, CETE's Assessment Program Director, came in and asked questions and gave us feedback. Our class was also invited to visit CETE and observe a live large group item [test question] writing workshop and I took advantage of that opportunity."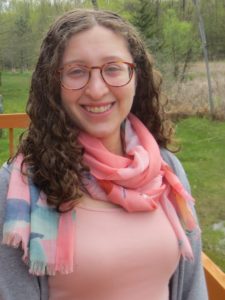 Now part of the Assessment Program, Berenbon will serve as an Associate Psychometrician while continuing her scholarly path as a Ph.D. focused focusing on advanced item analysis techniques.
Her work will involve analyzing and finalizing tests for the technical testing project, serving as a consultant for credentialing organizations, and facilitating workshops. She embraces the opportunity to mobilize the Center's active role in translating theoretical research into practice. "As a graduate student, I've been working on the theoretical side of things and I'm excited to do the forms finalization and applied side of psychometric analysis. Those decisions impact exactly what tests are going to look like."
Berenbon is no stranger to the grant world at Ohio State and previously worked as a graduate research assistant for the Helping Early Readers Obtain Excellence in Special Education (HEROES) i3 Development Grant. This project exposed her to the growing body of research on the topic of literacy and developed her interest in how this applies to early literacy.
This new addition to the Assessment team also highlights the ongoing priority to advance the scholarly work of the Center. Berenbon has published research in the Journal of Health Psychology and The Reading Teacher and has disseminated her findings at conferences such as the American Educational Research Association (AERA) and Literacy Research Association (LRA).
Berenbon's analysis skills also extend beyond test item questions. She conducts extensive research on the flavor profiles of ice cream around Columbus, Ohio. Her current analysis reveals Jeni's Brown Butter Almond Brittle and Salty Caramel ice creams provide a statistically significant result in the delicious category when eaten as a two-scoop duo. Stay tuned for her Rasch modeling analysis of the Center's all team ice-cream taste test.
Written by Marcie Kamb, May 20, 2020