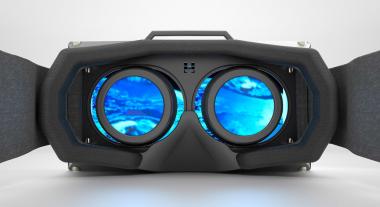 CETE staff member Greg Nagy and OSU Professor Belinda Gimbert have been exploring new virtual reality technology over the past few months, and have begun sharing their knowledge in a series of demonstrations for groups on campus. So far, Greg has done demonstrations about the Oculus Rift Virtual Reality Equipment for the Exploring Learning Technologies group (http://u.osu.edu/eltosu/) along with CETE staff, Wexner Medical Center doctors, the Office of Distance Education and eLearning, and Dr. Andrew Richmond's advanced English class. Greg is enthusiastic about the potential of partnering with many more groups to explore uses of this technology. The next step for Greg is to take his show on the road. In June, he will travel to Beijing, China to begin work on a pilot project to teach students English in a virtual reality classroom. Those who have attended the demonstrations have seen great value and application for their work:
"The great thing about the Exploring Learning Technologies (ELT) community at large and what Greg demonstrated in this presentation is the collaboration between learning and development professionals across the university. Not only did Greg allow participants to try the Oculus Rift, but he shared product knowledge about how the tool worked. He had the ability to share his knowledge in a way that was not overwhelming for the participants since he embedded facts in his presentation while participants were demonstrating it. His enthusiasm was contagious." – Cara North, CETE Staff Member
For more information about Oculus Rift Demonstrations, call or email Greg Nagy (614-292-1237; nagy.8@osu.edu).
Contributor: Greg Nagy