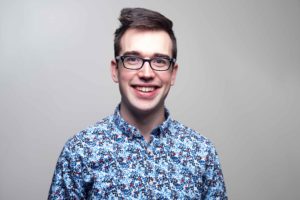 We are delighted to welcome Tyler Degen to the Center on Education and Training for Employment as a Systems Specialist. Tyler moved from Buffalo New York to attend The Ohio State University, where he received a B.S. in Computer and Information Sciences.
Tyler continued to make intellectual contributions to his fellow Buckeyes while working for the Association of College and University Housing Offices – International at The Ohio State University where he supported a network of universities representing 3.2 million on-campus students across the world. He also served as a Web Developer for the Office of Research.
Tyler loves working with CETE partners, attending meetings, and engaging in development work within different applications. "I feel like the work here has a scope that is large and yet focused at the same time. I am excited to jump into the WebXam project and will enjoy the opportunity to have a variety of responsibilities."
Tyler loves Mediterranean food, his adopted Greyhound Charlie, and dance. He shows off his fancy footwork through ballroom, tap, and jazz classes throughout Columbus.