The term Translational Research has historically been linked to the medical field as a research method to improve health outcomes, but the Center on Education and Training for Employment (CETE) at The Ohio State University has been developing the concept as an outlet for their continued growth within workforce development, education, and community engagement.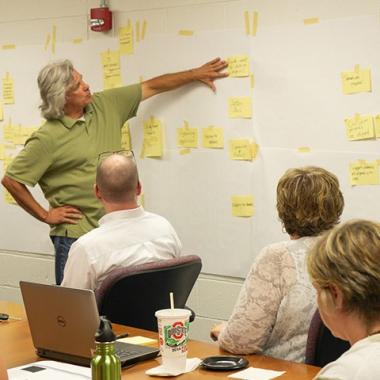 Dr. David Julian, a veteran at CETE, helps us understand how the concept of translational research and creating a unified atmosphere has worked at CETE. Dr. Julian's most recent area of engagement at CETE is as a program director overseeing evaluations and community practice teams.
Sara: Who came up with the concept of CETE as a translational research center?
Dave Julian: Translational research has been a part of CETE's mission for the last 20 years. I believe that CETE has lived the applied part of the translational research process, but I don't believe that we have lived up to the opportunities around scholarship. Translational research has shown up in earlier versions of our mission, but we had interpreted the concept in terms of its applied aspects.
Sara: Can you describe translational research in basic terms?
Dave Julian: Typically, there are a number of steps within the translational research process. The concept that I am familiar with begins with basic science and ends with field and widescale implementation. Understanding the potential of scientific discoveries to solve societal problems and testing the extent to which that actually plays out are critical components of translational research.
If the connection can be demonstrated in what are called effectiveness trials, at least in theory, the process yields an intervention, product, or drug that is available for widespread application and that can be used in multiple venues.
Sara: How do you see the concept of translational research being implemented at CETE?
Dave Julian: I think CETE's opportunity involves engaging the community, implementing an intervention in the community and evaluating the extent to which those interventions actually solve problems for CETE partners. We may have, as time passes and in partnerships with faculty, opportunities to do effectiveness trials.
Effectiveness trials are complicated, time consuming, and expensive, but as we evolve, there may be the potential to do this. It won't be an everyday occurrence, since most of our work will be centered around implementation with local communities to solve issues, including organizational, and workforce development issues.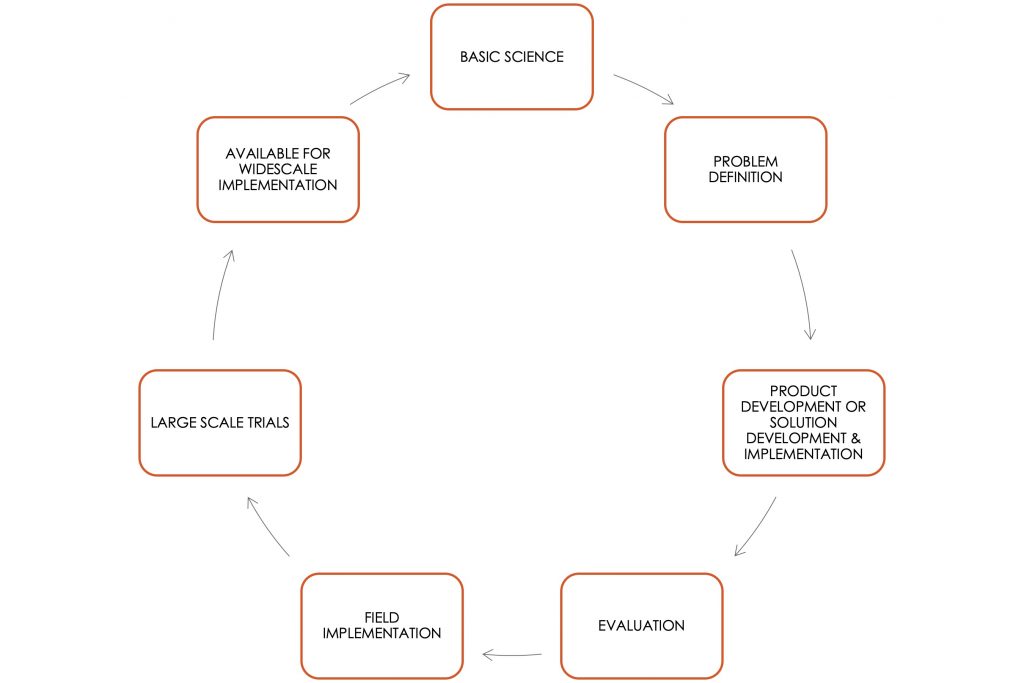 Sara: How does Translational Research work into the concept of OneCETE?
Dave Julian: If you think about the translational research continuum, I think every CETE project fits somewhere. If we began to think about the projects that we are engaged in from that perspective that will create a consistent research identity across CETE programs and also create the opportunity to feature work consistent with the translational research model. This model might help us think about all of our projects in a consistent way.
Sara: We have discussed concepts or ideas surrounding the terms "well-being" and "community" how does that relate to translational research?
Dave Julian: The ultimate outcome of a translational research process is to enhance well-being with respect to a community. If you think about CETE projects, most of them are about enhancing worker competencies and creating pathways that allow folks to achieve personnel and collective goals. The idea of "well-being" is the ultimate purpose for engaging in translational research. If we take an innovation through the translational research process, you can say we created an innovation that we think has problem-solving capacity. We should be able to show that it actually solves a problem and ultimately results in societal benefits.
Sara: What are your goals with translational research and evidence-based solution tactics used at CETE?
Dave Julian: Goals fall into two categories. The first is to be able to do the work we've done historically with clients, organizations, and communities. Secondly, to be able to disseminate that information and be part of the science of creating, demonstrating, and implementing novel solutions to clients' problems.
Sara: You recently traveled to Washington D.C. for Education and Human Ecology's DC Days program; did you talk about translational research there?
Dave Julian: During my trip, I was looking for opportunities to develop projects. I met with program officers at the National Science Foundation, the Department of Defense, National Institutes of Health, and the Institute for Educational Sciences. These organizations were able to present their priorities for research and various projects.
There was a strong emphasis on research. I was hoping to identify organizations and funding agencies might create opportunities to get translational research funded to demonstrate that an interventions works and the mechanics and factors that enhance a community's ability to adopt a particular innovation.
Sara: You introduced CETE as a translational research concept at the 2019 Education and Human Ecology Research Forum, do you think it was well received?
Dave Julian: I do, I think it was very well-received. I believe that translational research is a very appropriate role for CETE and that that capacity is an asset for the College of Education and Human Ecology. It honors our past and the work we have been involved in historically as well as laying the groundwork for future endeavors. The opportunity to engage students in this work has been very rewarding as well.
Sara: Who else is involved in moving the translational research concept forward?
Dave Julian: All of CETE's staff including Ryan Kapa, Alexis Little, Keli Bussell, and Melissa Ross. They have been instrumental in this process. Similarly, Dean Pope-Davis and CETE's new Director, Ana-Paula Correia have been extremely supportive of moving this concept forward.
Sara: Where else do you plan on presenting this research?
Dave Julian: We have been looking at opportunities to disseminate these ideas this summer. I'll be at the Society for Community Research and Action (SCRA) Conference, which is June 25th-29th in Chicago, Illinois. SCRA is a division of the American Psychological Association. I will be presenting a talk that encompasses translational research and discussing aspects of the concept in a conference session.
Additionally, CETE recently created a writing group that has a few manuscripts in preparation that address translational research issues. There are a number of venues where that content would be of interest to folks, so it is a matter of deciding where we want to present. I am convinced that these kind of dissemination efforts can impact the social sciences as a whole.
Contributors: David Julian, Sara Owens, Angela Stansell