Written by Marcie Kamb, February 20, 2020
The College of Education and Human Ecology hosted the annual Research Forum on Thursday, February 13, 2020, at the Ohio Union to highlight research innovation and create new collaboration opportunities among faculty, postdocs, research scientists and graduate and undergraduate students.
The research of the Center on Education and Training for Employment (CETE) was represented across associates and graduate students.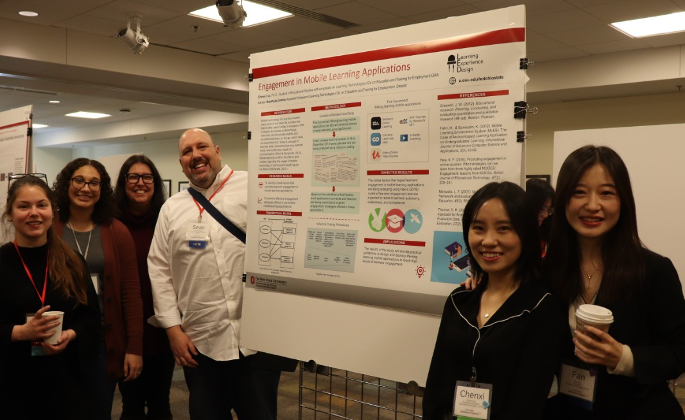 The graduate students shared their work through oral presentations and research posters. Morning poster sessions included Chenxi Liu's Promoting Engagement in Mobile Learning Applications and Fan Xu's Systematic Review of Empirical Studies on Computational Thinking: From a Design Learning Perspective. Ruoxi Qi and Hadley Bachman rounded out the afternoon with insights from a Case Study of Leadership Orientation in a Retailing Company and Effective Family Engagement at the Middle School Transition.
Joining the conversation
"I was astounded by the wide range of research projects going on, and I was proud to able to join in the conversation by presenting a poster of my work at the Ohio Statewide Family Engagement Center at The Center on Education and Training for Employment. Events like these demonstrate that this very large university has a genuinely welcoming and collegial community feel to it, one in which I've felt like I've been welcomed with open arms. I am already brainstorming presentation ideas for next year!" Bachman stated.
"I connected with other scholars and shared ideas on what we could do in the future. The event helped me realize that people cared about my research and that I wasn't just working on the topic all alone. I feel like I can continue to work on these projects with some meaningful purpose." Liu said. Xu explained that the most important insight she gained from her poster session was taking the complex topic of Computational Thinking and making it relatable and tangible to others in the time constraints of the poster session format. "I got a lot of positive feedback and some constructive suggestions that I plan to take on."
Connections to improve the quality of research
Presentations included Dr. Kenyona Walker, Program Manager, on the topic of Patterns of Persistence of First-generation, Urban, Black Female College Students, and Yixi Wang, graduate student, on Failing Student to Succeed Teacher: Detecting Inflation of Gain Scores from Low Pretest Motivation. "I enjoyed engaging in the forum both as a research presenter and a conference attendee. It is amazing to see the outcomes of complex and diverse research. And to know that it occurs here is exciting. I look forward to seeing some of it disseminated for a wider audience to receive." Walker said.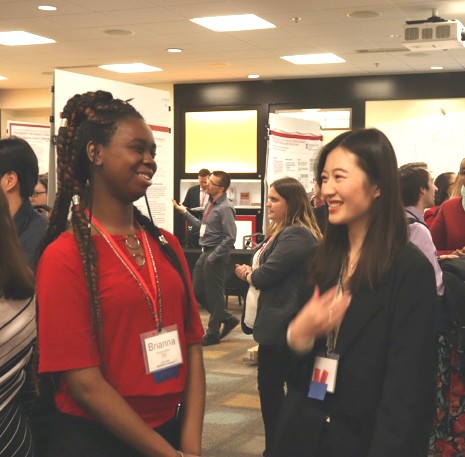 Qi shared "This event gave me opportunities to exchange and share research ideas, approaches, and results with other graduate students and faculty, especially those who are from diverse departments and majors. It was a great occasion to learn innovative information and knowledge across a wide range of subjects such as education, nutrition, and literacy. All the feedback I received will help me reflect on how to better my research ideas and design."
Wang has participated in the forum since her first year as a PhD student, and as a fourth-year she played an active role in the presentations and exhibitions. "As a PhD student, I enjoyed the supportive atmosphere in this forum, as well as its diversity. I keep in touch with colleagues and friends from different academic disciplines through this forum and it provides us with chances to understand and communicate deeply with each other. I highly appreciate all the feedback, suggestions and comments I received over the last four years, and I also appreciate that the center brings me the ideas and resources that helped me to participate."
Dr. Melissa Ross, Associate Director of Research Partnerships and Impacts at CETE, stated "Sharing the work of the Center on Education and Training for Employment as a Translational Research Center and engaging in dialogue with partners/potential partners offers exciting opportunities to consider how we can apply our translational research offerings in support of their goals and interests. We welcome opportunities to get the word out and engage in these types of conversations."
Application as an active ingredient of a successful research plan
Paolo A. DeMaria, State Superintendent of Public Instruction, served as the keynote speaker and emphasized the importance of co-planning and co-designing interventions with an eye towards Implementation Science. He highlighted the notion that researchers and practitioners should have a true understanding of what will need to go into the plan at the onset to help make the implementation successful.
Dr. Dave Julian, Translational Research Scientist at CETE, Dr. Melissa Ross, Dr. Brett Zyromski, Assistant Professor and CETE Faculty Senior Fellow, and Dr. Sandy Reed, Associate Director of the College's Data Access and Analysis Core, served on a panel to lead the conversation on The Process of Translation and Support for Faculty Research. The discussion dove deeper into DeMaria's notion of Implementation Science as an important subset of Translational Research, and how continuing to define the steps beyond conducting the initial research are critical to attempt to solve the problems facing our society that were described as "wicked" and "gnarly" by the forum's presenters. Problems as complex as exploding populations, growing chasms between the rich and poor, institutionalized racism and bigotry, rising sea levels, and a dwindling supply of natural resources were referenced.
Reed believes that translational research of CETE can play a role in developing solutions to these problems. "The Center is creating the culture and space where a new generation of influencers can collaborate and a new revolution– a revolution of thought, investigation, and translation of theory to practice to solve the most difficult of problems – is taking shape."