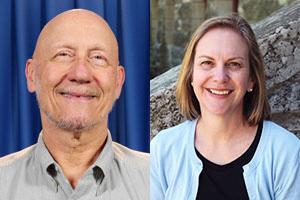 The College of Education and Human Ecology is also supporting the initiation of a CETE staff affiliate program to leverage CETE staff capacity to contribute to student instruction.
Dr. James Austin and Dr. Barbara Boone, CETE's inaugural staff affiliates, are teaching courses this academic year for the Departments of Education Studies and Human Sciences.
Barbara Boone (right image) is a Program Director with the Center for Education and Training for Employment. Her work focuses on improving partnerships between home, school, and community, and the long lasting impacts on children's learning and development. She conducts research, develops tools and resources, facilitates professional development, and leads statewide initiatives.
James Austin (left image), trained in quantitative and industrial-organizational psychology, seeks resources and directs funded projects in testing and assessment – focused on occupational-technical knowledge and skill for a variety of projects including credentialing (certification, licensing) and career-technical education. Cited publications span goal-setting and self-regulation, measurement of student and employee "job" performance, and methodological topics. This semester he is teaching a section of Classroom Assessment with a middle school cohort of 16 placed in Columbus City Schools as they prepare to graduate. Jim is impressed by the freedom differential of assessment in classrooms compared to standardized and large scale projects.
Contributors: Ana-Paula Correia, Melissa Ross, Angie Stansell