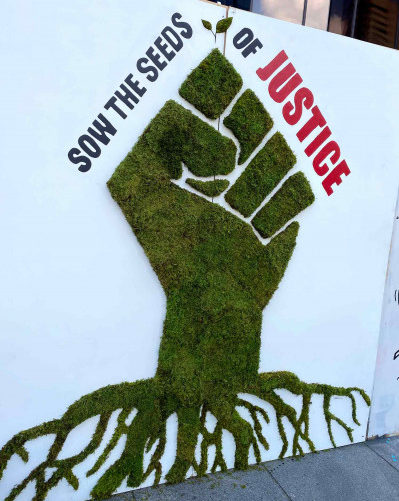 Written by Marcie Kamb, August 27, 2020
If Not Now, When? If Not Me, Who?
It became clear in June 2020 that there was a need to acknowledge the systemic racism that plagues our country and the powerful role CETE as a Translational Research Center housed in The Ohio State University's College of Education and Human Ecology can play to employ a holistic approach to equity, social justice, and inclusion. CETE developed a Racial Equity, Diversity, and Inclusion (REDI) Initiative that has taken flight among the 50+ associates, faculty fellows and affiliates and students.
This initiative is designed to:
increase CETE associates' knowledge and skills relevant to the posture and practice of cultural humility
identify and establish anti-racist norms, practices, and policies at the Center
contribute to the dismantling of institutional racism within CETE's spheres of influence

REDI encompasses four different levels of action, including Intrapersonal, Interpersonal, Institutional, and Societal. Each level has a specific set of activities associates engage with, ranging from professional development workshops to white affinity and multi-racial reflection groups, development of an 11 member steering team, to a corporate responsibility project.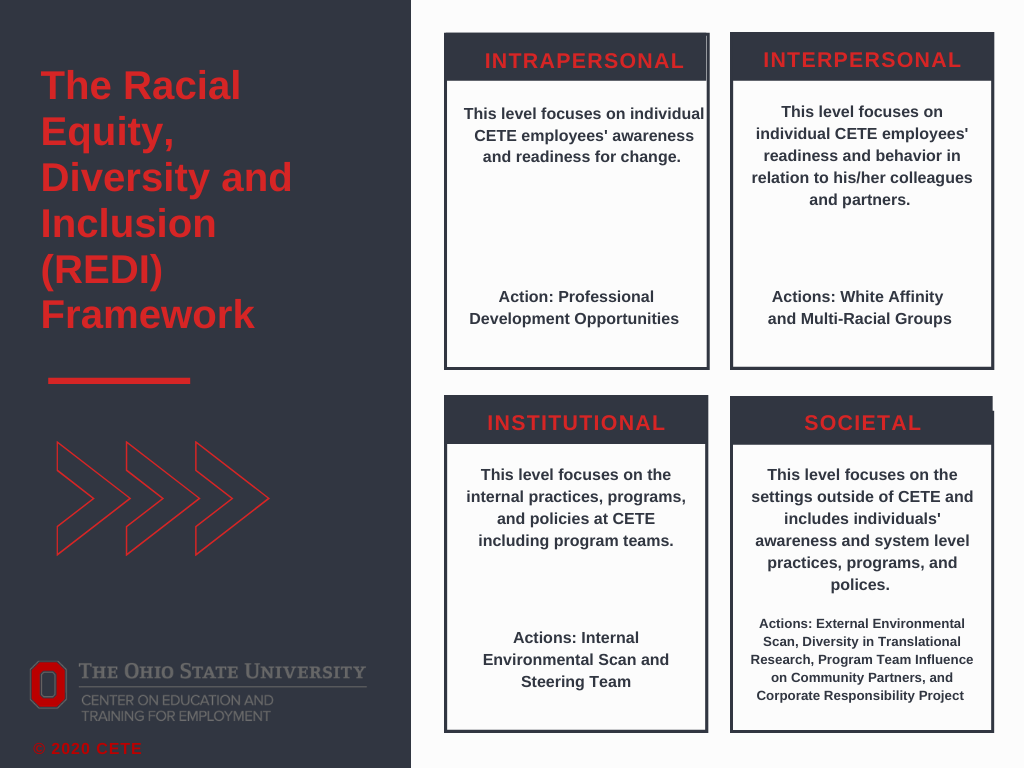 Alicia Willis, an Instructional Development Specialist at CETE, states, "As one person I never felt like I could do anything significant or knew where to start, but as a group, with the people we serve, it's powerful to think through the potential ripple effect and impact we can have."
"It's the first time that I've ever had to discuss the issues surrounding race in a professional capacity. We are tackling these issues head-on and directly and so it's a shift because some of us have been conditioned to not talk about race. It's right in there with religion and politics. This has helped me realize that that kind of mentality ends up allowing these structural racist systems to kind of keep working because nobody addresses them or it's seen as impolite to disrupt or try and fix them. When whiteness is the norm, you just don't think about it when you're white because everything is built for you in mind. Being a part of REDI helps us think about who that ends up leaving out and allows us to do something about it." Tyler Degen, Systems Developer, said.
Dr. Melissa Ross, CETE's Associate Director of Research Partnerships and Impacts, leads this initiative with a fire-like intensity that inspires action. "My life experience has included daily consideration of the implications of race. My colleagues and I are digging into scholarship on race and leveraging our expertise as translational research professionals to have an impact on systemic racism. We are actively preparing ourselves to be disruptive in our pursuit of racial justice. I am confident that our collective efforts will make a meaningful difference in our sliver of the world."
Racial Justice Outcomes Aggrandizing Beyond Educators, Families, Test Developers, Students, and Incarcerated Individuals
The REDI steering team is exploring all possible impacts and has developed criteria to prioritize where the efforts are centralized. One common thread that has emerged is the need to diversify the CETE associates and students engaged in the Translational Research work of the center to solve societal problems.
Dr. Kenyona Walker, Program Manager, shares her perspective on attracting and retaining talent. "If we can bring in talented people of color and retain them, that translates to the employment possibly being meaningful to them, they feel welcomed in the environment, they feel like they can progress in our environment, and they feel like they can do something meaningful. If we can do that, we may have the cultural change and shift that we hope to have."
"Having a lot of different points of view would be beneficial to see as a whole, with the diverse groups that we work with and community partners and clients and consultants. Working with diverse groups allows people to get to know people from different cultures and encourage ideas from people's personal experiences. We are fortunate to be able to work with incredibly diverse communities, and as partners, we should emulate that." Sara Owens, Assistant to the Director and Community and Engagement and Evaluation Program Manager said.
A center-wide action plan toward the achievement of meaningful outcomes across all program areas is underway. Dr. Ross shares, "I feel very hopeful that associates at CETE will work within their program areas and the issues they touch with our community partners to infuse racial justice. Particularly in the realms of assessment, education, family engagement, and community engagement."
Similar to the fragments of light in the abyss of the ocean to the sunlight zone at the very surface, the potential impacts of REDI lie within the many layers of CETE's cultural touchpoints. It could be bringing awareness to educators through professional development experiences, opportunities to explore some of the unrealized biases and how students are influenced to the development of the questions/items in assessments administered to thousands of students with an eye towards racial equity, to the ways we interact with educators working in the prison system and helping them to use the lens of cultural humility to positively impact the diverse groups of the people they work with.
Listen, Learn, and Unlearn. Repeat this Process into Eternity.
It's through the process of learning, listening, and unlearning that the CETE community can help mobilize the work in allyship and serving as co-conspirators in the charge to dismantle racism. Resources and self-reflection questions focused on a specific topic (e.g., the concept of Dr. Robin DiAngelo's White Fragility) are assigned to associates in preparation for monthly, 1.5-hour long affinity groups sessions that have been described as emotionally draining and simultaneously humbling conversations. "One thing I have realized is that this process of what the unprogramming feels like, and it's been eye-opening to think about how deeply embedded the idea of keeping quiet and polite regarding race has been a part of me." Degen states.
Willis shares a realization from her self-reflection journey on racism. "My mom was a first-grade teacher and educated me on a lot of these concepts. One term we discussed in the CETE's steering team, the decolonized mind, reminded me of my mom and how she taught me how the land was taken from the Native Americans and how white people had no right to do that. A lot of our recent discussions on REDI have helped me reflect on how I was raised to believe that we don't have a right to anything just because of the color of our skin."
A REDIness for Progress and Interruption
The Coronavirus provided an opportunity for CETE associates to work from their homes in the absence of in-person interactions inside the brick-and-mortar buildings on The Ohio State University's campus. This allowed CETE to reimagine the type of collaboration that could be offered to external visitors, partners, faculty fellows and affiliates and students as a result of the REDI initiative.
"I would love to envision CETE as this place where people feel comfortable coming to and that we will ultimately be able to branch out and help even more people in the community. This pandemic allows a lot of time to prepare ourselves and get ready so that when we're back in the building we are poised to work with new people in different groups and develop a collaborative culture." Owens said.
Dr. Walker echoes this sentiment "When I look ahead, if this work has done its job, not only will we have many of the same associates that we have now that have progressed, not only in REDI but in CETE's culture. They would have progressed personally, professionally, and academically. We would also totally different flavor of individuals, not just for black people, not just black females but different people of color, with different experiences and perspectives that bring unique skillset, to the table, where we can come together as a collective and truly do meaningful work that impacts our community, our society, our college, our center, and our interactions. When we think about this work through the lens of CETE as a world-class Translational Research Center, we would be exemplars of what it looks like to have an organization that truly honors its mission what it puts out and writing that we were doing that work that at work occurs on a daily basis. It will be an organization whose actions align with their statements and their mission and their purpose."
How does an organization evaluate its culture? How does a steering team disrupt potentially racist norms that may have existed at CETE and similar organizations for decades? These are questions Dr. Ross thinks about often and responds to with hope and optimism. "I envision a very clear anti-racist culture at CETE. That means there would be equity in terms of just the numbers of people of color that are employed to see people of color in leadership positions. It would mean that our associates know how to identify and tackle racism and feel compelled to do so. My goal is for us to be able to be skilled and knowledgeable about how to interrupt racism when we see it. I truly believe members of our CETE community are coming to terms with their contribution to systemic racism. I believe that they agree that the pursuit of racial justice is about prioritizing humanity over power and privilege. We are working on building our capacity to effectively acknowledge and give up some of our privilege, understanding that that personal investment is required to make a real difference."
CETE looks to the College of Education and Human Ecology's Office of Equity, Diversity, and Global Engagement (EDGE) under the leadership of Dr. Noelle Arnold for ongoing guidance in this work. Their offerings and oversight serve as critical touchpoints along our journey.
The REDI vision statement is for "Individuals, organizations and other societal institutions make racial equity a day-to-day priority resulting in settings that are inclusive, safe and welcoming and where white privilege is acknowledged and has no negative influence on how individuals of color fare."
The work of CETE's Racial Equity, Diversity, and Inclusion initiative offers the lens to experience this vision. Without vision, we will continue to squint and hope everything turns out okay. We know from past experience that it won't.
Read more about CETE's ongoing work on the REDI initiative page