In a time where many are struggling to get their flow with teleworking, Kate Fergus, Program Specialist at the Center on Education and Training for Employment at The Ohio State University, has already established her groove. Fergus has been teleworking from Athens, Ohio for the past seven years, working across multiple Center program areas including DACUM (an acronym for Developing a Curriculum) Job/Task Analysis, Assessment Services, and the Skilled Trades Professional Development Program. She willingly shares her tips on how to maximize your time, workspace, collaborate with others, and time with furry friends.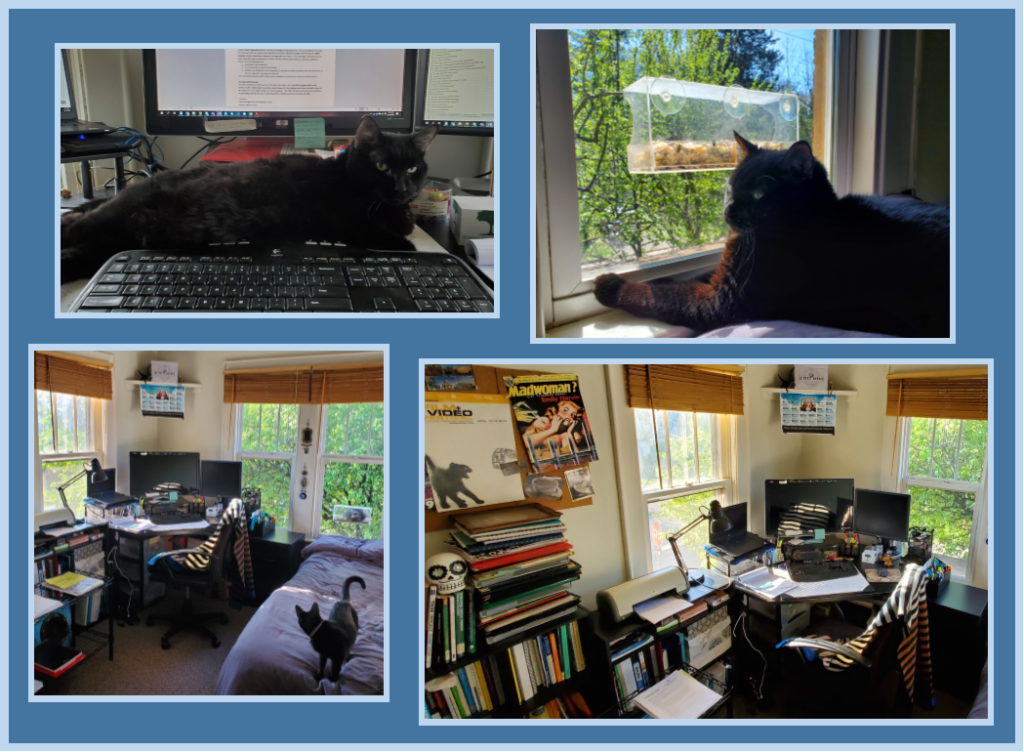 Using technology to support collaborative work
There are countless tools available to connect these days which can be helpful but can also lead to projects taking on lives of their own as communications flow through multiple channels. Fergus shares her favorite technology to make sure each project is getting the adequate amount of time and attention, Microsoft Outlook. "At the beginning of the month I look at my Outlook calendar and calculate the number of days I have allocated to work across the different projects. I then program Outlook reminders to track the amount of time I should be designating to each project. It's easy to get into something related to one project and then before you know it, the day is over. It's important to remember the time allocations and these reminders help keep time distributed as it should be."
Listening to music, Learning & Development podcasts, or the news are strategies many employ in order to feel less isolated while teleworking. For some, it is a source of motivation and for others, it helps improve their concentration level and learn more about their fields of expertise. Fergus says "I always listen to different podcasts throughout the day. Even if you are not really focusing on what they're saying, you are picking up bits and pieces of information as background noise which are always really interesting so you can learn new skills and be entertained while working."
Setting up a space for success
Right now, spaces may be occupied by family members in a way that typically would not happen. Is your workspace in the kitchen right by the refrigerator and within earshot of a family member streaming your favorite series on Netflix? This may not be the best set-up to minimize distractions and focus on the task at hand.
"You have to put in a lot of thought and effort in order to make yourself really comfortable and try to establish a setup away from the main living space if you have that option. I am lucky in that I have a guest room to use as my office that looks outside. I set-up a squirrel feeder outside the window and I'm able to watch the activity. I also have four cats (two too many) and they all love to come and hang out. I use different spaces in my work area for the three different projects. Each project has a designated pile that stays consistent. I also take breaks and walk outside or around my house to signal transitions between projects." Fergus says.
Physically remove work from your environment at the end of the workday
Individuals may struggle with maintaining a healthy work life balance even on the best of days in a non-teleworking scenario. With the added anxiety of COVID-19, an emphasis on mental health and establishing a balance is growing concern. Fergus states, "It's really important to be able to leave your workspace, shut the door (if possible) to signify the end of the work day. If you don't have the separation from your workspace it's really tempting to keep going rather than turning it off to allow yourself to enjoy personal time. Do your best to make that workspace disappear or find a way to divorce your brain from it. You will then hopefully get the opportunity to recharge. What everyone is going through right now may require more self-care than your average every day, so it's even more important for you to implement strategies to help with this."
As the current COVID-19 pandemic is forcing accelerated changes on how people work, learn, teach, care and live, learning from others like Kate that have been working remotely for a significant amount of time hopefully provides insight into how to blend your working and personal worlds into a well-balanced space. Right now this space may possibly serve as your home, office, park, school, restaurant, gym, and more, so the time and attention you devote to the thoughtful set-up will be a worthwhile investment.
Contributors: Marcie Kamb and Kate Fergus