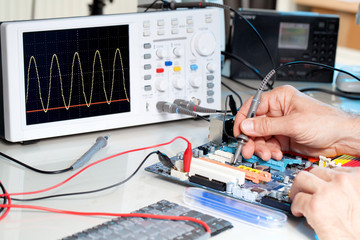 The Technical Testing Project operated by CETE Assessment Services includes two key components: design of test items (i.e., questions) and delivery of tests for the Ohio Career-Technical Education (CTE) Technical Testing System. Test delivery also requires end-user support for the field, especially at peak times of the year, month, and day.
A major part of the Technical Testing Project is developing the item banks to be delivered. Throughout last year, CETE staff worked with the Ohio Department of Education and Ohio Board of Regents to recruit, orient, and facilitate workshops for item writing and quality assurance (i.e., technical accuracy review and item validation ratings).
Delivery involves operation of WebXam™. Students will take over 200,000 tests through this portal. This is an increase of 50 percent over last year. The bulk of this growth is from the ever expanding Ohio CTE Technical Testing System, which now is linked to local report cards that measure and grade testing in two ways: participation and outcomes (pass/fail). Other projects using the WebXam™ portal for delivery include MBAResearch and several certifications.
CETE launched a voluntary pretesting system through WebXam™ in August 2014 to assist local education agencies (e.g., Career-Technical Planning Districts and other high schools) with meeting the requirements of the Ohio Teacher Evaluation System (OTES). Nearly 40 validated pretests were available. Before the April 15 deadline, students took 955 pre-post pairs with an average gain of 14 percent. The initial release of newly created course item banks for Information Technology, Transportation (Air, Ground), and Personal Care Services (Cosmetology) pathways as well as a few revised courses ended May 1. Testing ends for the remaining Ohio CTE Technical Testing System pathway tests on June 5. Data are then exported to local districts for their submission to the Ohio Education Management Information System (EMIS) for accountability.
Another service to the CTE field is providing familiarization to students and instructors. This summer we expect to launch "practice tests" of approximately 20 items per pathway to provide a focused preview of the testing experience for students and teachers. These will be released items not used for any other purpose than familiarization with the test content and process.
Contributor: Jim Austin, Brooke Parker