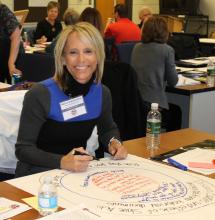 The Ohio Adult Basic and Literacy Education (ABLE) Professional Development Network (PDN) is a collaboration of content experts, trainers, and researchers working to deliver and support evidence-based, high quality, effective in‐service professional development in areas of importance to nearly 1,000 Ohio ABLE professionals, including administrators, support staff, and teachers.
To support Ohio ABLE teachers in their implementation of the College and Career Readiness (CCR) Standards, the Ohio ABLE PDN in conjunction with the Ohio Board of Regents held four regional teacher academies in the fall 2014. The specific purpose of the academies was to build a deeper understanding of Ohio's ABE/ASE Standards for Adult Education and their application to existing lesson plans or curricular units. Objectives for the academies included:
unpacking standards to identify skills, content, context, cognitive demand, and sample learning activities
identifying gaps in existing lessons using the developed curricular unit evaluation rubric
applying information gained from unpacking sessions to retrofit existing lessons
using available resources (e.g., progression tables) to begin planning for differentiated instruction
The academies provided participants the chance to interact with the standards and work in groups to apply them to lesson plans. Additionally, the Ohio ABLE PDN introduced future options for professional development using the standards in instruction. Opportunities include participation in an intensive standards cohort and office hours for standards implementation support.
For more information on the Ohio ABLE PDN's work with standards, please visit ohioable.org.
Contributor: Adrienne Boggs