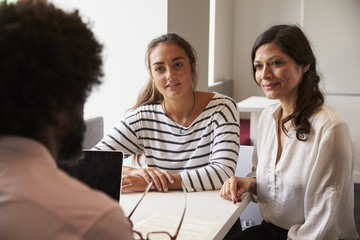 Ohio's State Professional Development Grant (SPDG) awarded to the Ohio Department of Education's Office for Exceptional Children (OEC) aids Ohio's efforts to support all Ohio schools in significantly improving the quality and consistency of instruction and services provided to students receiving special education services and other struggling learners. The Parent-Educator Partnerships component of Ohio's SPDG aims to successfully engage families in their children's education at school and home and equip teachers with knowledge and skills to effectively partner with families.
In the first year of implementation, selected school districts and parent-teacher co-facilitator teams from 16 regions in Ohio committed to the facilitation of a series of 90-minute parent-teacher meetings in their districts. Parent co-facilitators are parent mentors from the Ohio Coalition for the Education of Children with Disabilities and other parents of children with disabilities. Three of eight parent-teacher session modules were developed in the first year, and co-facilitators were trained. Ongoing support for facilitators was provided through webinars and a web-based networking platform. The 16 parent and educator co-facilitator teams led sessions in their districts for groups of teachers and parents of students with disabilities. These local discussions focused on improving communication between parents and teachers, increasing understanding of the experiences of families, and improving how teachers and parents partner on behalf of students. An average of 75 parents and 103 teachers attended each of the three training sessions developed this year. Importantly, the learning from each session went beyond the evening sessions and individual participants. Both facilitators and participants reported to district leadership teams and built them with feedback for systemic improvements for engaging families more effectively.
In collaboration with the OEC, CETE's Results Management Team provides overall project management, coordination, and content expertise for the SPDG's Parent-Educator Partnerships project. Barbara Boone, PhD, CETE program director, leads program coordination for multiple partnering organizations, including Bowling Green University, The Ohio Coalition for the Education of Children with Disabilities, the OEC, and regional State Support Teams. As project coordinator, Boone oversees the collaboration of the project team in the development and facilitation of training. She provides facilitation of workgroup meetings, planning and coordination of training sessions, communication among regional teams, and integration of the project with Ohio's other SPDG initiatives and the Ohio Improvement Process. Feedback from co-facilitators and parent and teacher participants provided a formative evaluation, which in turn led to improvements in module content and processes. The continuous improvement process allowed for advances in the Parent-Educator Partnerships project for the second pilot year and for the next two cohorts of district participants beginning in June 2015.
Contributor: Barbara Boone