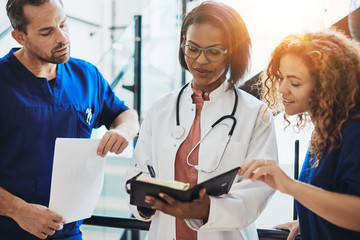 The Results Management Team at CETE continues its collaboration with the Columbus Medical Association to evaluate the first year of the Physicians Leadership Academy (PLA). This is an innovative program designed to enhance the ability of physicians to serve as change agents within their spheres of influence in the healthcare system.
The first Academy cohort is comprised of 17 physicians who bring with them a variety of expertise and experience. They came together for the first time in September 2014 at an orientation hosted by the Columbus Medical Association. The following month, the physicians participated in a two-day retreat that focused on The Art of Hosting Conversations that Matter — a series of skills and techniques designed to promote excellent communications between individuals and groups. In November, the physicians met for their first monthly seminar, which explored the art and science of mindfulness mediation. This was followed by an introduction to organizational culture and systems change in December and an introduction into systems and design thinking in January. Upcoming seminar topics include transformative scenario planning and utilizing advocacy to create change.
For each of these sessions, the Results Management Team at CETE administers surveys that are designed to collect data from the physicians on their reactions to the curricula and the extent to which they gained new knowledge. This spring, the Results Management Team will also be conducting individual interviews to explore how the physicians have implemented what they have learned over the past year as well as their overall satisfaction with the Academy. The Results Management Team will utilize these data to support program improvement for the Academy in preparation for its second-year implementation, which is scheduled to begin in autumn 2015.
Contributor: David Mullins, MA, PMP