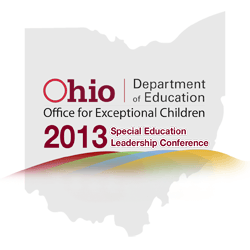 Ohio's 7th Annual Special Education Leadership Conference attracted over 1800 people involved in education throughout Ohio. Held on September 30 – October 2, 2013 at the Greater Columbus Convention Center, the Pre-Conference on Legal Issues attracted over 700 people for a half day on September 30th and those people plus over 1100 additional people attended the two-day Conference on October 1-2, 2013. The theme of the Conference was Achieving Balance: Leading Improvement for Children with Disabilities While Managing Compliance.
State Education Superintendent Richard Ross opened the Conference by welcoming the participants and providing an overview of the latest state-related education information. The office for Exceptional Children's Director Sue Zake provided important updates on topics related to special education. Director Zake also presented the co-winners of the 2013 Kathe Shelby Leadership Award to Cathy Bregar of Reynoldsburg City Schools and Janet Gillig of Dublin City Schools.
The Conference highlighted presentations by staff members of Ohio's Department of Education and of the Office for Exceptional Children on current topics such as Ohio Academic Content Standards – Extended, Student Learning Objectives (SLOs) and Teachers of Diverse Learners, Ohio's New Learning Standards and Lesson Design, Ohio's Alternate Assessment, and the Third Grade Guarantee.
National presenters presented keynote and master sessions on topics such as Considerations and Strategies for Managing Challenging Behaviors in School Settings, Effective Reading Strategies and Programs for Adolescent Learners, Integrated Comprehensive Services (ICS) for All Learners, Implementation of the Common Core State Standards and Instructional Practices in Mathematics, School-Wide Positive Behavior Supports Within Early Childhood and Elementary Schools, and Intensive Reading Interventions for Elementary Students Struggling with Reading.
There were also breakout sessions by Ohio educators from around the state and by vendors reporting on how their resources are being used in schools. Additionally, commercial and nonprofit organizations exhibited at the Conference.
Comments from the evaluation of the Conference included, "I went to the conference looking for answers to specific concerns in the areas of SLO, content standards, 3rd grade guarantee, and OTES and found the answers and valuable information/resources" and "It was a very worthwhile conference and I brought back information and strategies to assist the teachers at my school to improve instruction."
The Pre-Conference featured Melinda Jacobs, Esq., an attorney in private practice who is a member of the Special Education School Attorneys Advisory Council and serves as Chairperson of the LRP National Institute on Legal Issues of Educating Students with Disabilities who spoke on What's Happening in Special Ed Law in 2013? Also featured was Susan Hastings, Partner in Squire Sanders L.L.P. in Cleveland, who spoke on Are Changes in Ohio's Education Laws Keeping you Up at Night? Comments from the pre-conference evaluation included, "Excellent presentations! Very engaging and informative!" and "Well worth attending & spending an additional day away from work/school!"
CETE staff members Carol Daniels and Caroline Coston worked in collaboration with Sue Zake and the Office for Exceptional Children to plan and carry out the Conference including making all arrangements with national presenters, issuing a Call for Presentations to Ohio educators, working with exhibitors and with all organizations related to setting up a Conference including the Convention Center and related organizations as the exhibit and audio/visual, and wifi providers, and related services such as interpreters, Beny Walujo was responsible for the very appreciated Conference app, a first this year, and he and Bob Reece worked in collaboration on registration along with Laurie Dotson, Kathy Summerfield, and Sharon Kelsey, all CETE staff members.
Contributor: Carol Daniels