Racial Equity, Diversity, and Inclusion
ABOUT THE RACIAL EQUITY, DIVERSITY AND INCLUSION MOVEMENT
This video provides an overview of the REDI foundation and the shift to showing up at the table as solid change agents in the race space, and ensuring that CETE is looking at practices and policies related to the work and considering all work products through the lens of racial justice. 
The Center on Education and Training for Employment (CETE) committed to taking the center's passion and expertise beyond our statement to stand against racism.
CETE developed the Racial Equity, Diversity, and Inclusion (REDI) Initiative in the summer of 2020 to increase our efforts in workforce development, education, and family and community engagement toward the pursuit of a holistic approach to equity, social justice, and inclusion. 
REDI has since evolved from an Initiative to a Movement, with CETE associates engaged in collective efforts towards: 
increasing members of the CETE community's knowledge and skills relevant to the posture and practice of cultural humility
identifying and establishing anti-racist norms, practices, and policies at CETE
contributing to the dismantling of institutional racism within CETE's spheres of influence
The REDI Vision is that individuals, organizations and other societal institutions make racial equity a day-to-day priority resulting in settings that are inclusive, safe, and welcoming and where white privilege is acknowledged and has no negative influence on how individuals of color fare.
REDI encompasses four different levels of action, including Intrapersonal, Interpersonal, Institutional, and Societal. Each level has a specific set of activities associates engage with, ranging from professional development workshops, to white affinity and multi-racial reflection groups, a corporate responsibility project, and a Steering Team responsible for on-going development and management of REDI, utilizing a problem-solving process drawing on CETE's translational research model. 
One example of an intrapersonal action that launched in 2021 is the center's 2021 Walking and Centering Blackness Challenge, designed to expand our understanding of the experiences and culture of the Black students, employees, and families impacted by our work.
Following is CETE's framework for engaging in action through the Intrapersonal, Interpersonal, Institutional, and Societal levels.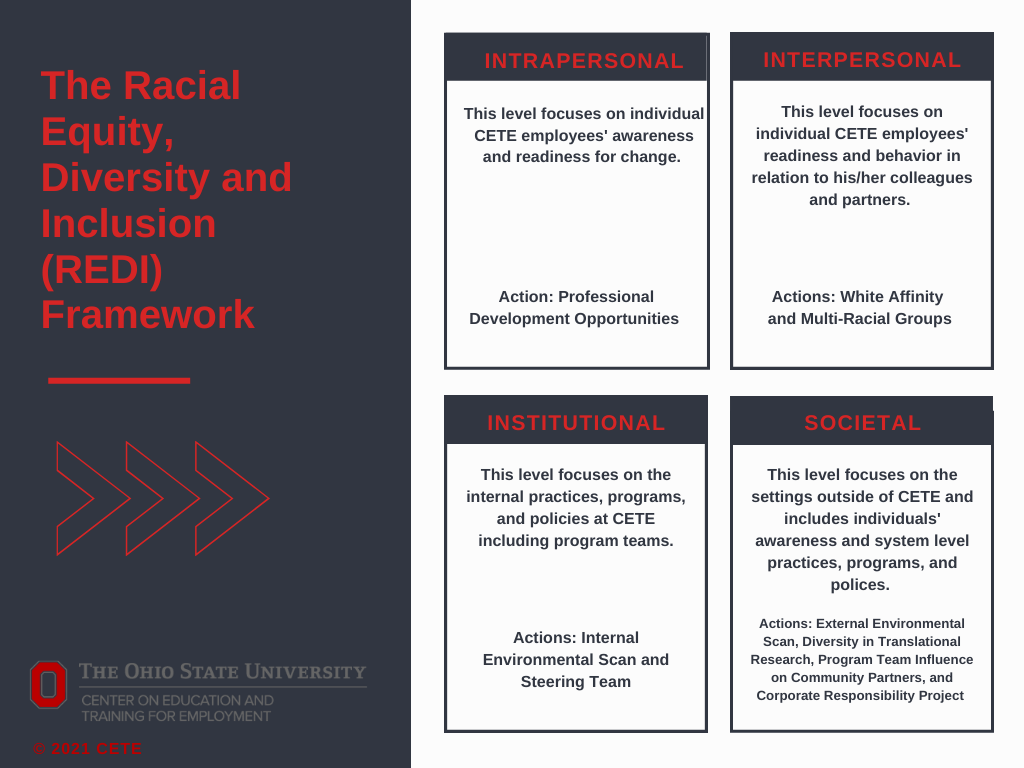 RACIAL EQUITY, DIVERSITY AND INCLUSION MILESTONES
The REDI team started an initiative that evolved into a movement over the course of a year, and the following timeline describes just a few of the key milestones.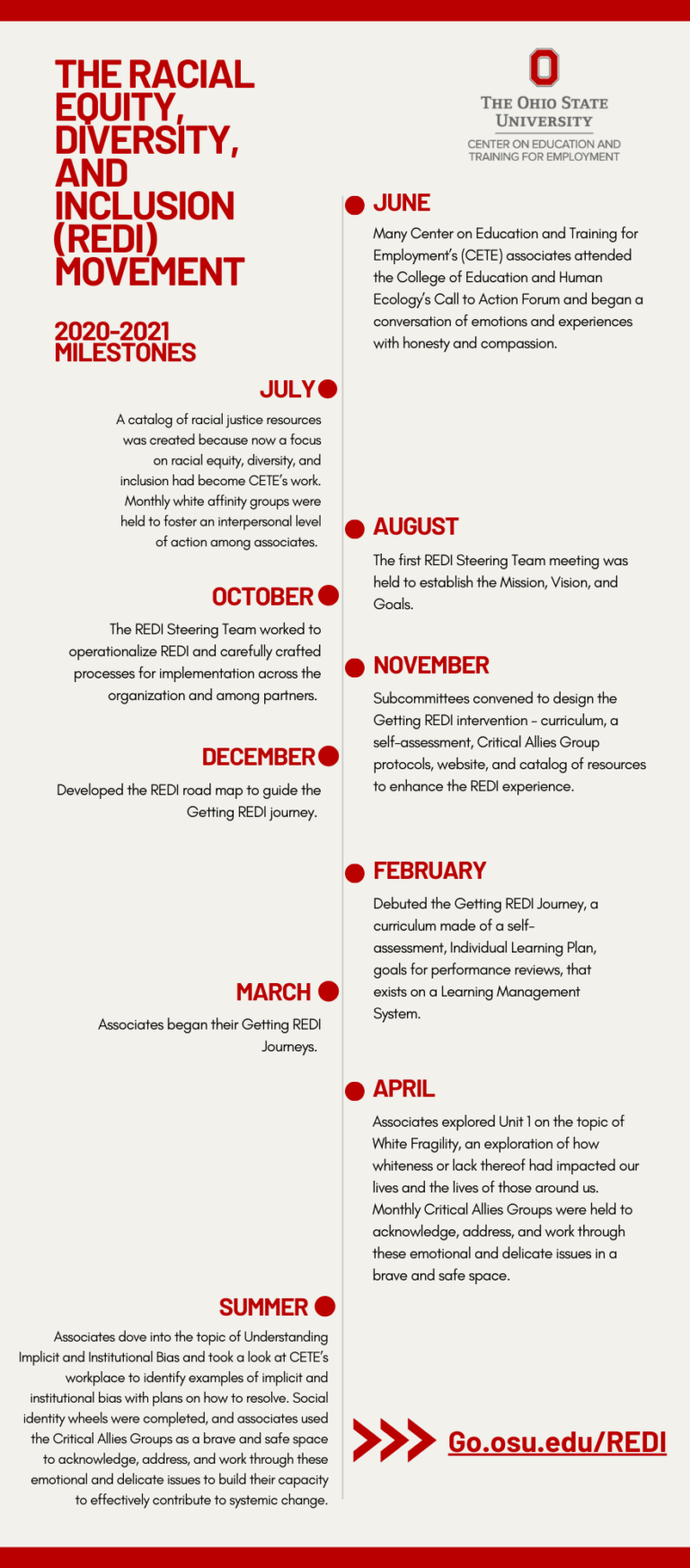 PROFESSIONAL DEVELOPMENT RESOURCES AND MATERIALS 
Resources have been developed and curated to address topics relevant to racial equity, diversity, and inclusion. Select a topic below to explore and disseminate materials. 
Centering Blackness Videos As articulated in an article released by the Insight
Read More »
RESEARCH FROM THE COLLEGE OF EDUCATION AND HUMAN ECOLOGY
What the Over-punishment of Black Girls in US Classrooms Teaches Us About Just School Discipline
Explore the interrelated phenomena of teachers' paternalistic aims and their misattributions of the agency of their students within schooling contexts of systemic racial injustice in the United States. Teachers in these contexts assess agency in patterned, predictable ways that stem from – and reify – preexisting unjust patterns of oppression. 
Elementary Mathematics and #BlackLivesMatter
Engage with suggestions for classroom activities and a self-reflection activity on setting up a classroom space safe for all voices to engage in discussions about the importance of diversity, restorative justice, empathy, loving engagement, and Black families. 
It's Not About You, It's About Us: A Black Woman Administrator's Efforts to Disrupt White Fragility in an Urban School
This case centers on a Black woman school administrator and efforts to disrupt Whiteness among an urban elementary school teaching staff. The case details the resistance she encounters while encouraging teachers to confront "White fragility" and consider how their fragile perspectives on race and racism shape how they educate Black students.