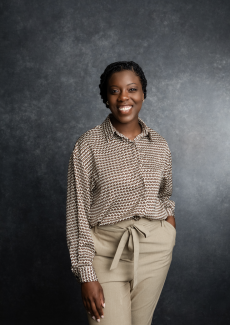 Dr. Gabrielle Johnson is a translational researcher at the Center on Education and Training for Employment (CETE) where she works as a member of the Equity, Engagement, and Evaluation Team. Dr. Johnson possesses a longtime passion for the pursuit of equity, social justice, and systemic change in education which led her to earn her PhD in Educational Studies, with a focus on School Psychology from The Ohio State University. Her dissertation research emphasizes the urgency to prepare school psychologists and related school-based mental health professionals for the implementation of trauma-informed practices in urban schools. Dr. Johnson collaborative research on Black girls' counseling outcomes and the school-to-prison pipeline have been presented at national conferences for the National Association of School Psychologists as well as the American Psychological Association.
Prior to accepting her current position with The Ohio State University, Dr. Johnson worked for Loudoun County Public Schools of Ashburn, Virginia within their esteemed, APA-accredited training program. As a member of the 2020-2021 doctoral internship cohort, her role as a school psychologist allowed her to serve students from early development/preschool age to high school age regarding school mental health, academic and behavioral supports and interventions, and special education evaluation and eligibility. She also served as a school-based consulting member of the Unified Mental Health Team, Child Study Team, and Pupil Services Student Support Team.
Dr. Johnson has also served in a variety of leadership roles on the local, regional, and national levels for several organizations. As witnessed by her work with the OSU Office of Diversity and Inclusion, OSU Young Scholars Program Summer Institute, Loyola University Chicago Target New Transitions Program, and the Indiana University Community Educators Program, Gabrielle has maintained a commitment to equity and social justice in education throughout her collegiate training.
Beyond her professional endeavors, Dr. Johnson is a puzzle enthusiast (from jigsaw to sudoku) and a lover of the performing and creative arts.