The 2010 Patient Protection and Affordable Care Act includes the authorization of Maternal, Infant, and Early Childhood Home Visiting (MIECHV) programs with significantly increased national investment over five years for at-risk pregnant women and children (Adirim, 2013; Issel, 2011; Michalopoulos et al., 2013; Willis, 2013). The goal of this expansion is to improve the long-term health and well-being of mothers and children by providing home-visiting programs that address prenatal care, healthcare for infants and young children, parenting, other precursors to lifelong health, and educational outcomes (Willis, 2013). The Ohio Department of Health (ODH) and its home-visiting partners have identified the need for supplementation in the form of a statewide, in-service training for home visitors with a research-based prenatal curriculum (Ohio Department of Health, 2013). Discovering additional training needs for home visitors and establishing ongoing, in-service training for staff have been common experiences of statewide, home-visiting initiatives (Coffee-Borden & Paulsell, 2010). Through its Health Resources and Services Administration funding, the ODH defined three goals for expanding prenatal training:
Select and implement at least one research-based prenatal curriculum.
Increase the knowledge and skills of the home-visiting workforce in Ohio.
Disseminate relevant knowledge, skills, and tools to the early childhood field.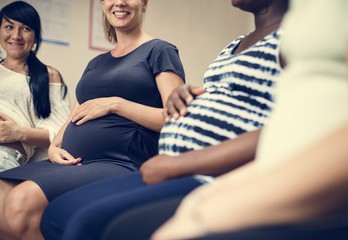 The ODH selected the InJoy curriculum, Understanding Birth eClass, to fill gaps within existing training curricula for home visitors (Ohio Department of Health, 2013). In addition, the ODH decided to implement this curriculum to increase consistency in training offered to Ohio's home-visiting workforce and finally, save costs for agencies and counties. The ODH will focus on improving staff knowledge and self-efficacy through the introduction of the online training. It is designed to prepare expectant parents who cannot travel to onsite childbirth classes because of issues, such as inflexible schedules, required bed rest, and long distances. The curriculum content is divided into eight sections covering in order: Pregnancy, Labor, Birth Stories, Comfort Techniques, Medical Procedures, Cesarean Births, Newborns, and Postpartum. Each section has between four and 11 subsections. In addition, each subsection has text, videos, and supplemental activities. Specific examples include mothers' birth stories, checklists, practical suggestions, tips for partners, and related tools, such as daily food logs, tracking logs for fetal movement, a contraction timing tool, and birth plans. Review suggests that the InJoy curriculum is consistent with best practice guidelines for online education and adult learning (American Distance Education Consortium, 2002), including use of interactive links and activities, links to additional resources, balance of words and graphics, and easy navigation. In addition, the curriculum appears to use a variety of media and incorporates best practices, such as modular, stand-alone units that are compatible with short bursts of learning and modules that are flexible and self-directed.
Empirical research in the education and workforce arenas suggests direct benefits from elearning for both knowledge and efficacy. Meta-analyses, in particular, have suggested that elearners perform at least as well as, if not better than, individuals in traditional classroom settings (U.S. Department of Education, 2010; Welsh et al., 2003).
The CETE Results Management Team's evaluation of Ohio's MIECHV prenatal curriculum will employ an experimental design to test the relationship of the online prenatal health curriculum to several home visitor variables. These variables include the extent to which the curriculum enhances home-visitor knowledge related to healthy pregnancies, the extent to which the curriculum enhances home visitors' self-efficacy (confidence), whether home-visitor exposure to the curriculum reduces client exits, and ideas for improving Ohio's application of the InJoy curriculum. The project aims are important as the information is likely to contribute to more effective home-visitor services in Ohio and perhaps in other locations.
The CETE Results Management Team has worked with the ODH over the past several months to refine the program protocol, program logic model, and evaluation plan, including development of evaluation instruments. The evaluation plan has been submitted to The Ohio State University's Institutional Review Board (IRB) for approval. Evaluation activities will commence following receipt of IRB approval.
References
Adirim, T. & Supplee, L. (2013). Overview of the federal home-visiting program. Pediatrics, 132, S59-S64. doi: 10.1542/peds.2013-1021C.
American Distance Education Consortium. (2002). ADEC Guidelines for Distance Learning. Retrieved from
http://www.adec.edu/admin/papers/distance-learning_principles.html
Coffee-Borden, B., & Paulsell, D. (2010). Recruiting and Training Home Visitors for Evidence-Based Home Visiting (EBHV): Experiences of EBHV Grantees. Retrieved from
http://www.mathematica-mpr.com/publications/PDFs/earlychildhood/EBHV_brief2.pdf
Issel, L., Forrestal, S., Slaugher, J., Wiencrot, A., & Handler, A. (2011). A review of prenatal home-visiting effectiveness for improving birth outcomes. Journal of Obstetric, Gynecologic, & Neonatal Nursing, 40, 157-165. doi: 10.1111/j.1552-6909.2011.01219.x.
Michalopoulos, C., Duggan, A., Knox, V., Filene, J., Lee, H., Snell, E., Crowne, S., Lundquist, E., Corso, P., & Ingels, J. (2013). Revised design for the mother and infant home visiting program evaluation. OPRE report 2013-18. Washington, DC: Office of Planning, Research, and Evaluation, Administration for Children and Families, U.S. Department of Health and Human Services.
Ohio Department of Health. (2013). Ohio's MIECHV Program Development Grant Proposal. Retrieved from Ohio Department of Health Bureau for Children with Medical Handicaps and Early Intervention Services website: http://www.odh.ohio.gov/odhPrograms/cmh/cwmh/bcmh1.aspx
U.S. Department of Education. (2010). Evaluation of evidence-based practices in online learning: A Meta-analysis and review of online learning studies. Washington, DC: U.S. Department of Education: Office of Planning, Evaluation, and Policy Development Policy and Program Studies Service.
Willis, D. W. (2013). Maternal, infant, and early childhood home-visiting program (MIECHV). Zero to Three, 34 (1), 51-58. Retrieved from http://www.zerotothree.org/policy/homevisiting/docs/ztt-homevisiting_final.pdf
Contributor: Barbara Boone