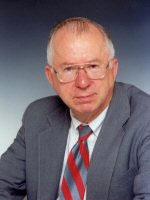 Dr. Bob Norton, DACUM and SCID Program Director, was awarded the title Professor Emeritus by The Ohio State University Board of Trustees. Raised on a dairy farm in northwest New York, Dr. Norton earned his bachelor's, master's and doctorate degrees from Cornell University. Dr. Norton began his employment with The Ohio State University in 1971 as an assistant professor in what was then the Department of Agricultural Education specializing in competency based education.
Much of his work in those early years focused on preparing vocational teacher education modules for the Performance Based Teacher Education (PBTE) program. Dr. Norton has spent the greater part of his career developing the DACUM (Developing a Curriculum) and SCID (Systematic Curriculum and Instructional Development) training programs at the Center on Education and Training for Employment. He has conducted over 450 two-day DACUM workshops since 1976 for businesses and educational institutions. Since 1982, Dr. Norton has conducted over 275 week-long DACUM Institutes that have trained over 4,000 persons from 42 countries as DACUM facilitators. He has also conducted over 125 five-day SCID training classes. His work related travels have taken him to 24 countries and he has written countless articles and spoken at conferences internationally on topics related to competency based education.
After 37 years of dedicated service, Dr. Norton officially retired from OSU but continues to work half time as Director of the DACUM and SCID programs. His colleague, John Moser, works closely with him as the Associate DACUM and SCID Program Manager. Dr. Norton and his wife, Judy, have three grown children and two grandchildren. He continues as an active member of the Upper Arlington, OH chapter of Optimist International and also serves as Vice President for North America for the International Vocational Education and Training Association (IVETA). Dr. Norton may be reached by e-mail at norton.1@osu.edu or by phone at 614-292-8481.
Contributor: Revised by William Moore, Ph.D.