Why should a conceptual DACUM workshop be conducted?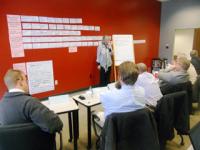 As companies expand their products or services and create new positions or as community colleges add new programs to train students to meet emerging local workforce needs, developers of training programs or curricula may need to conduct an analysis for a job that does not exist. There are also situations where jobs need to be restructured, given a futuristic look, or otherwise re-envisioned due to new legal requirements, company reorganization, or other societal changes or concerns. One technique we recommend employing is a conceptual DACUM workshop. A conceptual DACUM is similar to the traditional DACUM workshop with a facilitator and recorder but adjusts the process because there are no expert workers who already perform the job. Instead, the facilitator leverages a panel of experts who conceptualize, predict, or forecast the future based on what they know about the job or occupational area. In the last 25 years, The Ohio State University's CETE DACUM staff has successfully conducted over 50 conceptual DACUM workshops to meet needs, and the number of requests to facilitate the conceptualization of new positions continues to increase.
How is a conceptual DACUM different?
There are two major differences between a regular and a conceptual DACUM: the makeup of the panel and the questions asked by the facilitator. Depending on the situation, the conceptual panel may be comprised of some or all of the following:
job innovators
managers and supervisors
engineers
consultants and specialists
representatives of concerned groups
customers
Most of the time, the facilitator needs to switch from asking, "What do you do?" to "What should be done?" or "What needs to be done?" If the panel consists of some early innovators (assuming such persons are available), "What do you do?" still may be asked.
Assembling the correct panel members for a conceptual DACUM can be especially challenging. Determine who is likely to possess the best available information. It could mean a small panel of only two or three persons or a large group of a dozen or more. Be careful to recruit the thinkers, early innovators, and others willing and able to think outside the box.
More time is needed for brainstorming and discussion as thoughts need to be formulated, duties and tasks proposed, and a consensus reached. The panel still needs orientation and to abide by the criteria for good duty and task statements. Three lists of enablers (skills, tools, and behaviors related to the duties and tasks) should also be identified. The panel probably will not need to address future trends because the whole analysis should address the future. Our experience has shown that most analyses can still be done in two days' time.
The U.S. Department of Labor or the O*Net Resource Center can also be sources from which to add any available data to the analysis. Although, new jobs or occupations are less likely to have this type of information.
How are the results different?
The resulting DACUM output will look almost the same as a regular DACUM graphic summary. It may have six to 12 duties and 75 to 125 tasks. The panel members may have come from very different positions and could look considerably unlike the usual panel. There also should be a footnote somewhere that the output is the result of a conceptual DACUM and subject to change as a real situation indicates. Because there are no actual job experts to review the panel's work, a task verification usually is not done.
What are some examples of DACUM conceptual analyses?
Several examples are explained briefly, below.
Arkansas Power and Light Company
One of the first conceptual DACUMs occurred in the early 1980s when nuclear power was emerging as a new energy source. The Nuclear Regulatory Commission (NRC) required the Arkansas Power and Light Company to identify what employees should do in the event of a nuclear problem or disaster. Since the company fortunately had not yet encountered any serious problems, it had no internal experts in the area.
The company identified two or three of its most knowledgeable nuclear engineers who, with the facilitator's guidance and probing, were able to specify several duties and tasks that employees needed to perform in the event of a nuclear incident. The sponsor used the resulting information to develop a training program for its employees that met NRC requirements and protected the employees and the public.
The Ohio State University's Agricultural Technical Institute (ATI)
Ohio State's Agricultural Technical Institute (ATI) received a grant from the National Science Foundation (NSF) in 2012 to prepare workers for employment in the emerging bioenergy field. Bioenergy is renewable energy made from materials derived from biological resources in agriculture, such as straw, manure, and wood waste.
The starting point was to recruit a panel of nine visionaries who had worked with prototype systems or had engineering or analytical expertise in the processes that produce bioenergy. Under the guidance of a trained facilitator, they were able to identify eight to 10 jobs in which graduates of the new program might find employment. The panel then identified 130 tasks in 10 duties that would form the foundation for the course curriculum ATI would offer its students.
Mechatronics Technician
This position has come onto the radar screen of several community colleges within the last few years. No curriculum existed to prepare graduates for this position, so Linn-Benton Community College in Albany, Oregon hosted a conceptual DACUM workshop that brought together five people from local industry disciplines. A trained facilitator worked with the panel for two days using the conceptual DACUM process. The result was 71 tasks in seven duties that a mechatronics technician would perform. The college used the outcomes to design its course curriculum and began offering courses the following year.
Conclusion
When carefully planned and well conducted, a conceptual DACUM can provide an excellent foundation for company training programs or college curricula for emerging jobs or occupations. It is certainly not appropriate in every situation, but it can be powerful and beneficial in the design of those programs to ensure their relevancy.
The DACUM International Training Center maintains a list of DACUM charts that are available for purchase. Some of the many conceptual DACUMs that have been conducted include:
Bachelor of Technology Graduate (Cobleskill College, NY)
Bioenergy Technician
Bio-lab Technician
Bio-manufacturing Technician
Career Planning Specialist (Ohio Department of Education)
CDRP Technician (AT&T)
Colab Facilitator (The Ohio State University)
Community Health Care Worker (Florida)
Construction Industry Skills Profile (California)
Co-op Education Teacher/Trainer (Philippines)
Curriculum Coordinator (Hungary)
Curriculum Development and Evaluation Office (Ohio Police Officers)
Economic Education Advocate (The Ohio State University)
Entrepreneur (Columbus State Community College, OH)
Family Health Care Worker (Georgia)
Financial Administrator in an Emergency (Georgia)
GPS-based Precision Ag Technician (Ohio Secondary School)
International Trade Specialist (Columbus State Community College, OH)
Mechatronics Technician (Oregon)
Nonprofit Organization Manager (Columbus State Community College, OH)
Ohio CTE Leader (Ohio Department of Education)
Organizational Effectiveness Consultant (American Electric Power)
Production Coach (Liebert)
Public Health Nurse in Emergency Preparedness (Georgia)
Regional Curriculum Coordinator (Hungary)
Small Scale Sustainable Farmer (U.S. Department of Agriculture)
Software Development Coach (Carnegie Mellon)
Sports Manager (Columbus State Community College, OH)
Talent Management Consultant (The Ohio State University)
Teacher Leaders (Temple University)
Website Developer (Florida Department of Education)
For more information, please visit: cete.osu.edu/projects/dacum.
Contributor: John Moser