CETE staff members Jody Angelone, Tricia Hughes-Fitzgerald, Bridget McHugh, Jim Austin, Greg Nagy, Jodi Lemaster, John Moser, and Kate Fergus recently have had the opportunity to provide professional learning experiences for the Experiential Learning Engagement for International Students (ELEIS) program.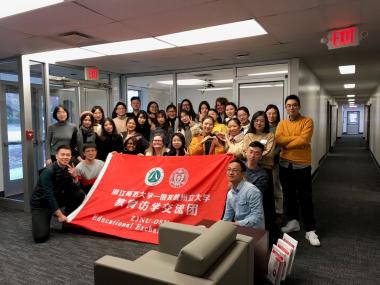 Since early December, 26 students from Zhejiang Normal University in Jinhua city, Zhejiang province have been attending seminars and workshops, immersing themselves in foreign language classes, participating in focus-group discussions, engaging in professional and career development, volunteering in local community and social service organizations, and participating in cultural events and excursions.
These events are continuing through the winter and provide wonderful opportunities for CETE staff members to engage with a fun group of students.
CETE staff designed and delivered student-centered, evidence-based sessions on the following topics:
US Workplace Context and Career Awareness – presented by Jody Angelone and Christina Terrell
Standards-based Education- presented by Tricia Hughes-Fitzgerald
Storyboarding and Lesson Planning – presented by Tricia Hughes-Fitzgerald
Education Assessment: Classroom Assessment – presented by Tricia Hughes-Fitzgerald
Education Assessment: Test Development – presented by Bridget McHugh
Item-writing Observation – presented by Jim Austin
Educational Technology and Virtual Reality- presented by Greg Nagy and Jodi Lemaster
DACUM Observation – presented by John Moser
Job Analysis – presented by Kate Fergus
Task Analysis – presented by Kate Fergus
Mock Interviews – presented by John Moser
Contributors: Tricia Hughes-Fitzgerald, Angela Stansell