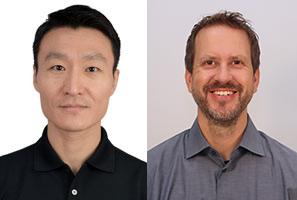 With the support of the College of Education and Human Ecology, CETE has named its first two Faculty Research Fellows, Dr. Lin Ding and Dr. Brett Zyromski.
The decision to create the faculty research fellowship is in part an effort to strengthen CETE efforts on scholarship and research at CETE.
Lin Ding is an Associate Professor in science education in the Department of Teaching and Learning. He has extensive experience in discipline-based physics education research, including students' conceptual learning, problem solving and scientific reasoning, curriculum development, and assessment design.
Brett Zyromski is an Assistant Professor in counselor education in the Department of Educational Studies. His scholarship focuses on the impact of evidence-based interventions in school counseling, evidence-based school counselor education, and evaluation in school counseling.
Please join in welcoming Dr. Lin Ding (left image) and Dr. Brett Zyromski (right image) as the inaugural CETE Faculty Research Fellows!
Contributor: Ana-Paula Correia, Melissa Ross, Angie Stansell