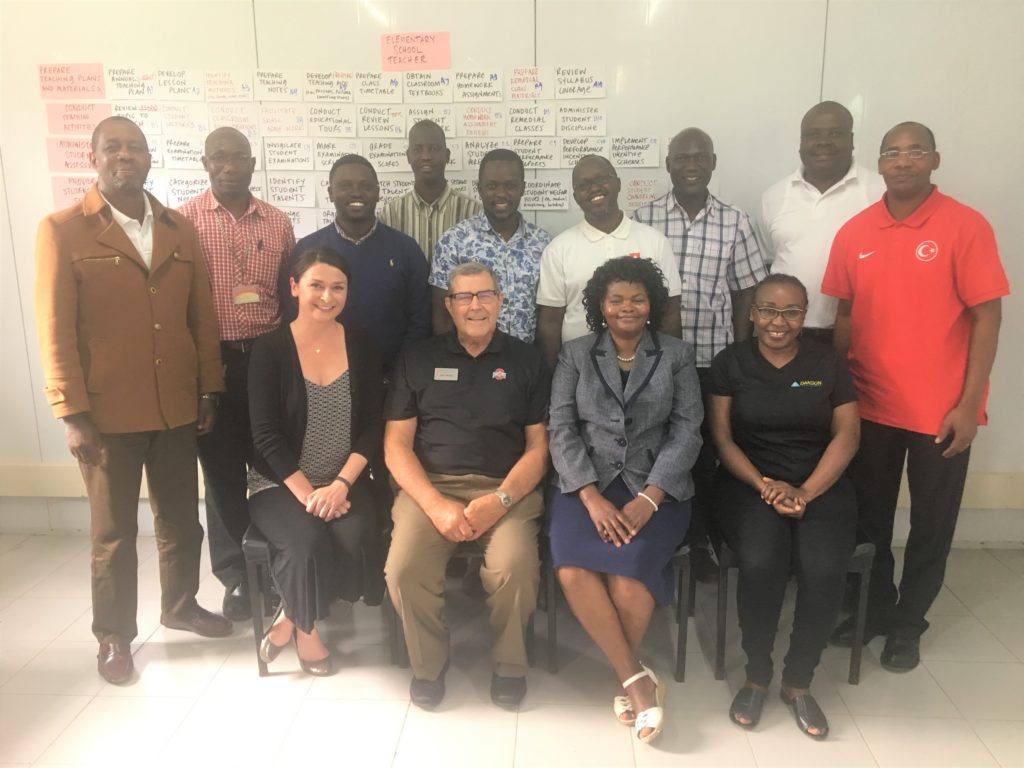 John Moser, Program Lead for the DACUM International Training Center at the Center on Education and Training for Employment (CETE), and Kate Fergus, Program Specialist at CETE, recently led two Developing a Curriculum (DACUM) Institutes in Naivasha, Kenya for Kenya Pipeline Company. DACUM is a job analysis process that incorporates the use of a group working with a trained facilitator to capture the major duties and related tasks included in an occupation, as well as the necessary knowledge, skills, tools, equipment, and behavioral traits required to successfully perform the work identified by the panelists. CETE hosts several five-day DACUM Institutes annually where individuals are trained in how to facilitate the process to analyze jobs, occupations, processes, or functions. These trainees are then able to conduct their own DACUM workshops at their organization, which is foundational to the development and implementation of competency-based education training and curricula.
CETE was contacted by the Kenya Pipeline Company to conduct two five-day DACUM Institutes for nearly two-dozen engineers and accountants at the Morendat Institute of Oil & Gas, a Training Center of Excellence about 100Km north of Nairobi in Kenya. The trainees conducted job analyses on different positions and obtained the skills and knowledge they will need to develop competency-based education and instructional materials for training others to perform in areas of accounting, procurement, fire prevention, and health and safety. The actual curriculum development course that CETE offers is known as Systematic Curriculum and Instructional Development (SCID). The same people who were trained in DACUM will participate in the SCID training which will take place in August 2019 when John and another CETE associate travel back to Kenya.
When asked about her experience, Fergus said it was life-changing and truly inspirational. "The trainees were eager learners and were able to quickly pick up the DACUM process. It helped that that they came from a background that's already analytical, which is a big part of the process. By the time the first week ended, the Morendat Institute had appointed two women from Kenya Pipeline to take over project management components of implementing the DACUM process in their organization. The participants were surprised at how relaxed and fun the training could be. From my understanding, training in Kenya is very structured, rigid, and formal. We took the DACUM process, which is a formal structured process, and made it very interactive and dynamic for their teams. They would start each day with a group prayer and made a point to bless John [Moser] and myself for guiding them in the process. We learned so much from them and it was exciting to know that this will help make such a difference in their communities. This experience helped highlight what resources CETE can offer developing countries. I actually cried on the last day when they prayed for our safe return. It was an emotional day for everyone."
The participants found the training helpful to their work. "I have benefited greatly as one who has been in the forefront to facilitate the Electrical department course curriculum. I struggled to develop and conduct two electrical courses in the recent past, but with DACUM knowledge it will be much easier, efficient and effective as many issues have been addressed in the 5-day training" Daniel Okumu, one of the participants from Kenya Pipeline's Electrical Department, shared at the conclusion of the Institute.
The work CETE is doing in Kenya is actually a component of a larger, $3.2 million grant over 5 years from the World Bank to strengthen the capacity of institutions such as the Morendat Center that play a role in developing the vocational skills of the people in eastern Africa working in the petroleum sector. By empowering the organization's employees to develop the skills and resources to help themselves, they will contribute to the growth of their economy and reduce youth unemployment.
According to John Moser, "the work that we are doing now in Kenya is actually a continuation of what we started in 2015 when the first cohort of Kenya Pipeline employees travelled to CETE to participate in the DACUM and SCID training. They were able to go back and develop competency-based curricula that has since been implemented in four disciplines. Now we're training another cohort of employees who will be doing the same thing for four more disciplines. Not only did we train the folks from Kenya Pipeline, but we also trained employees from other companies such as Kenya Railway, Kenya National Construction Authority, and Kenya Power & Light at CETE to be able to do the same thing in their industries. It has truly made an impact in what these organizations have been able to do."
John Moser has been with Ohio State since 2005 when he joined CETE as the associate director for the DACUM program. He was mentored by Dr. Bob Norton who retired as the director in 2014 after working nearly 40 years developing the DACUM process and program. John assumed Bob's role following his retirement and has continued the national and international reach of the program to teach people in companies, community colleges, government organizations how to effectively use the process to develop competency-based training. The DACUM program at Ohio State is recognized as the only international provider of training in the process.
Prior to coming to The Ohio State University, Kate Fergus served as Coordinator of the Central/Southeast ABLE Resource Center/Stevens Literacy Center within the Patton College of Education at Ohio University in Athens, Ohio. Her work focused on developing and strengthening relationships among internal and external stakeholders and creating research-based, effective professional development opportunities designed to advance the best practices of education professionals.
If you are interested in this CETE team of experts conducting a DACUM for your organization, please contact Program Lead, John Moser at moser.120@osu.edu.
Contributors: Marcie Kamb, Keya Crenshaw, John Moser, Kate Fergus, Ana-Paula Correia