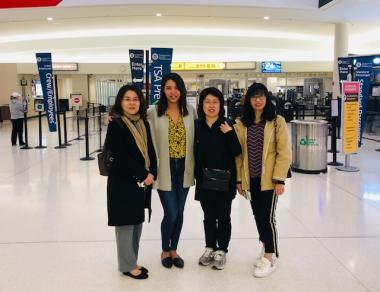 In October 2018 Dr. Ana-Paula Correia, Director of the Center on Education and Training for Employment (CETE), traveled to China to visit a former mentee, Shu-Ju Tai, who is currently a professor at Beijing University of Chemical Technology (BUCT). Of the visit, Dr. Correia said, "When I first arrived in Beijing, I was so excited to start building relationships with BUCT faculty, staff, and students. Earlier this year, BUCT Vice-President and other administrators visited The Ohio State University. We showed them everything Ohio State has to offer including the Ohio Union, the Oval, and the Stadium; we immersed them in Buckeye culture. Then it was my turn, I couldn't wait to see BUCT, present to their students and be part of the campus culture."
However, curating professional relationships can be difficult, especially if your network is over 6,500 miles away. During the visit to Beijing, Dr. Correia established a lasting relationship with faculty and staff at the university.
As a result last week, Professor Feng, Dean of the School of Humanities and Law and Professors and Department Chairs Pan and Zhou from Beijing University of Chemical Technology have visited the College of Education and Human Ecology (EHE) and Ohio State in an effort to further strengthen the ties between the two institutions. Dr. Correia, Dr. Melissa Ross, and Sara Owens were responsible for hosting the delegation at CETE, but the visit was mainly supported by Dr. Kerry Dixon, the Executive Director of Civic and Global Engagement for the EHE's Office of Diversity, Inclusion, and Community Engagement.
Dr. Ana-Paula Correia hopes to host BUCT students for an immersion experience at CETE as well as have an exchange of faculty between EHE and BUCT. As far as Dr. Correia is concerned, this is only the beginning of an international relationship that she is establishing for the Center of Education and Training for Employment.
Contributors: Keya Crenshaw, Ana-Paula Correia