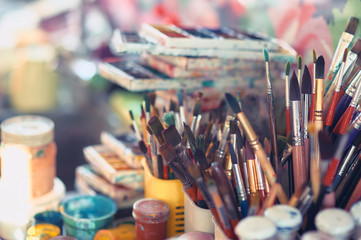 Honoring the past. Looking to the Future.
Entry Deadline: March 1st
Medium: All
Artist Notification: March 11th
Delivery & installation: Week
of March 28th M-F 10am-4pm
Show Date: April 1-30th
De-Installation: April 30th
Entry Fee: $0
The Center on Education and Training for Employment in the College of Education and Human Ecology at The Ohio State University is seeking submissions from emerging and professional artists living in Columbus, OH to exhibit in the office's public spaces and hallways. This exhibit is not juried and is open to artists working in all mediums.
Artwork that fits the exhibition theme of "Honoring the past. Looking to the Future" literally and/or figuratively is being sought.
Artists can submit up to 3 photos of pieces for consideration by March 1, 2019, to crenshaw.14@osu.edu. Work must be at least 2D, and ready to display. Please note: No holes in walls for hanging will be allowed. CETE will work with artists to provide hanging/display options. The exhibit runs monthly beginning April 1-30th.
Drop-off Days/Times:
Week of March 28th M-F 10am-4pm to Keya Crenshaw 1900 Kenny Rd., Columbus, OH 43210-1016.
Important Details
Maximum size artwork to be accepted is 36×48 inches
Each art piece delivered needs to include artist information on the back: Title & year of the piece; medium/size; artist email; price; and a short description of the piece.
Artists are to take their work at the end of the exhibit
All sales will be handled by the individual artist who will make arrangements for the purchaser(s) to either pick up artwork at the center or for delivery afterward. *Please note: We do not have insurance that covers artist work. We suggest the artist have their own insurance to protect their artwork.