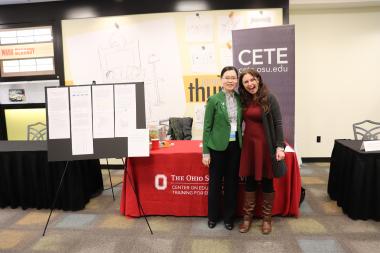 The 2019 EHE Research Forum was held on Thursday, February 14, 2019, at the Ohio Union. The Forum highlighted the research efforts of the faculty, postdocs, research scientists and graduate and undergraduate students in the College of Education and Human Ecology. Nine CETE faculty and staff members and several graduate students exhibited posters at the day-long forum.
The plenary speaker was Kelly Purtell, an assistant professor in the College of Human Ecology (EHE), Department of Human Sciences, Human Development and Family Science (HDFS), a faculty associate at the Crane Center for Early Childhood Research and Policy, and a faculty affiliate of the Institute for Population Research. The Dean of the College of Education and Human Ecology (EHE) Donald Pope-Davis was the lunch keynote speaker.
CETE had two very successful poster exhibitions. The first poster was presented by David Julian, Melissa Ross, Traci Lepicki, Kenyona Walker, Keli Bussell & Ana-Paula Correia on, Establishing the Center on Education and Training for Employment (CETE) as a Translational Research Center. "There were several benefits to me in participating in the research forum. First, it allowed CETE to position its work in the college's research context. It's important to me that CETE finds its voice in that space. Second, it offered me an opportunity to connect with research efforts and researchers across the college. I feel that my participation was well worth it—met my goals. I look forward to doing more at the next forum", said Associate Director Traci Lepicki.
The second poster exhibited by CETE was presented by Yixi Wang, Bridget McHugh, and James Austin on using the Rasch model to construct test blueprints. Research Specialist Bridget McHugh found the forum insightful and collaborative. "Our main goal was to increase visibility and possibly open up collaborations with other departments. Exhibiting at the forum helped members of the assessment team, including Yixi Wang, Jim Austin, and myself, network with other researchers in Human Sciences, Educational Studies, and other disciplines. The forum also helped CETE explain how our work connects with work in these areas, giving us greater visibility within the college." Graduate Research Assistant Yixi Wang agrees with Bridget adding, "We believe the Rasch model can help us to determine the weights of each task in the blueprints in a more reasonable way. We exhibited this project and continue communicating with EHE faculty members and students. We are especially trying to keep in contact with students and faculty from the Quantitative Research, Evaluation, and Measurement program (QREM). We discussed the project with attendees and collected suggestions for further studies. We are excited to continue working on this project."
Have more questions regarding the forum? You can contact the EHE Office of Research at 614-247-2412.
Contributor: Keya Crenshaw