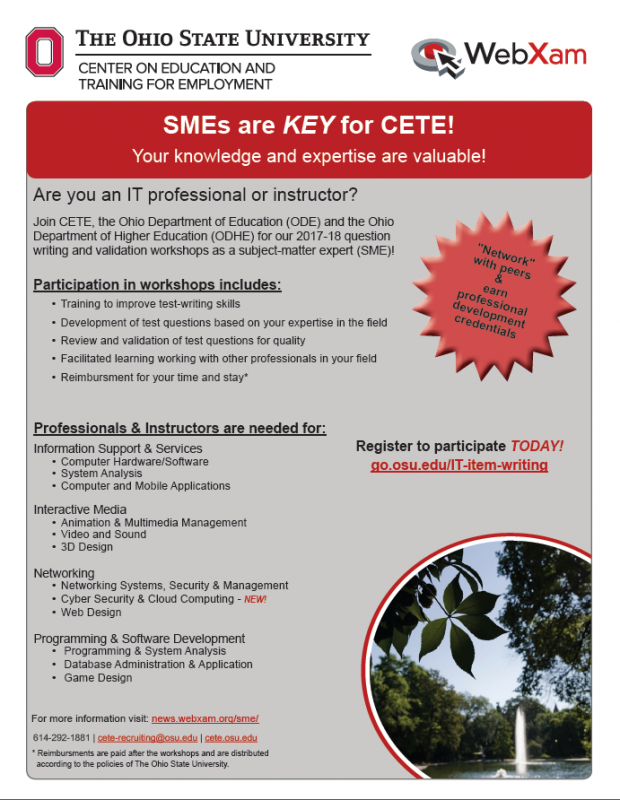 Each year, CETE offers item-writing workshops and technical assistance to support the development of end-of-course tests for the Ohio Departments of Education and Higher Education.
Last year, as a result of this work, Ohio administered tests to over 100,000 students. Over 250 subject-matter experts provided input during CETE workshops for the development of those tests, and over 1,000 people participated in reviewing and validating the tests.
This year, CETE staff will deliver workshops for subject matter experts from around the state to create more than 20 end of course exams for the field of Information Technology and 1 end of course exam for the field of Family and Consumer Sciences.
Test item development involves five major subcomponents:
(1) Pre-workshop planning, materials preparation, and logistics
(2) Pre-workshop psychometric and IT work related to existing items (to conserve scarce resources)
(3) Recruiting Subject Matter Experts & Conducting item-writing workshops
(4) Post-workshop item processing and set-up for field testing
(5) Item review and validation workshops
Through this collaboration with both the Ohio Department of Education and the Ohio Department of Higher Education, CETE demonstrates a commitment to:
(1) Being part of the conversation for high quality education in the state of Ohio,
(2) Helping to drive career technical education (CTE) excellence,
(3) Supporting collaborations between ODE and ODHE for the benefit of students, and
(4) Training teachers in formal assessment, allowing them to better prepare students for the knowledge and skills they need to succeed in academic settings and beyond.
The test-item development procedures used by CETE are well-established in the occupational knowledge-skill assessment sector, including tests for statewide CTE, employee hiring-selection, and certification. As active members of the Association of Test Publishers and the Institute for Credentialing Excellence, primary test-development staff at CETE continuously apply and hone their knowledge and skills in the occupational and educational test-development arena.
Test items are based on and aligned with Ohio's Career-Technical Education Career-Field Technical Content Standards as implemented through course outlines. Test forms include end-of-course tests, pretests, and pathway practice tests.
Contributors: Cara North, Meredith Wellman