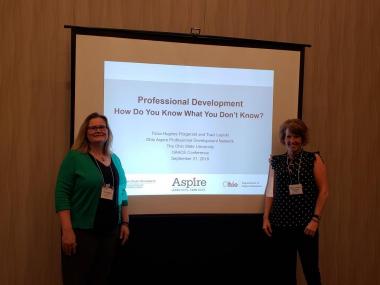 In September, over 200 adult basic education practitioners attended the two-day Ohio Association of Adult and Continuing Education (OAACE) conference. This statewide conference was a success due in part to the work of CETE. Six staff within CETE's Aspire Professional Development Network attended and presented at the event. Jody Angelone and Adrienne Boggs serve as OAACE board members as the Advocacy Chair and Communications Chair, respectively. Bobbie Sin serves as the association's administrative assistant.
During the conference, Jody assisted the planning committee with presenter outreach and follow-up, provided information regarding the Coalition on Adult Basic Education (COABE) association and student ambassador session, and helped with vendor setup. At the conference, Adrienne provided updates via social media, hosted events, supported presenters via session introductions, registered participants, assisted with the silent auction, and conducted the conference evaluation. Bobbie continued in her administrative role during the conference. She served as the event and logistics coordinator, managing plans before the conference and troubleshooting through the two days. Additionally, CETE staff presented sessions during the conference across topics relevant to adult education, including assessment, standards-based education, and professional development.
Jody Angelone presented Using Stakeholder Assessments, Identifying Strengths and Needs. In this session participants explored stakeholder assessment(s) useful in adult basic education programs. They reviewed and discussed stakeholder assessments and how to use them along with data and research to address their program improvement needs.
Tricia Hughes-Fitzgerald and Traci Lepicki co-presented Professional Development: How Do You Know What You Don't Know? to an audience of administrators and teachers. In this session, participants examined the importance of professional development in improving job performance and how to identify professional development needs within the context of the resources available within the Ohio Aspire Professional Development Network.
Christina Terrell delivered a double-session on Implementing New ESOL Standards for Adult Education during the first day of the conference. At this interactive session, participants examined the new Ohio Aspire ESOL standards and engaged in practical activities for implementation. Post-conference feedback shows participants have already begun transferring their knowledge and skills gained from the session.
Contributors: Traci Lepicki, Angela Stansell