Revised by Marcie Kamb, November 2, 2020
Society has always recognized that the partnership between teachers and families was important, but the pandemic helped us all realize just how important it truly is. There is a critical emphasis on getting to know families and how best to build relationships with them. As we have transitioned "back-to-school" in one way or another, teachers are being asked to use technology in ways they may have never been asked to before, while possibly taking care of their families and leading virtual instruction as parents themselves. Families are also navigating this space and many are reliving the stress of the abrupt virtual instruction in the spring. It seems like an impossible situation, but through collaborative efforts and openness to change, instruction is well-underway and supports are in place to help.
The Center on Education and Training for Employment's Professional Learning for PreK-12 Educators and Family Engagement Programs have offered ongoing resources to families, schools, and teachers to cope with the ongoing demands and changing times. The Professional Learning for PreK-12 Educators and the Educators and Families for English Learners project honed in on developing the essential skills that a classroom teacher needs to build that specifically address and the English language learners and their families need.
Teachers have always been asked to engage students. Now the questions are…
How do I do that online?
How can we (parents, caregivers, and teachers) work together to support your child's learning in your home environment?
Dr. Belinda Gimbert, Principal Investigator of the Educators and Families for English Learners project and Associate Professor in Educational Administration in the Department of Educational Studies at The Ohio State University, says, "The first question is how do we procedurally assist classroom teachers to facilitate their students to access and navigate online learning materials and resources? As to the expectations with virtual learning, how do they support parents and guardians to guide their child/children? Another piece of the scenario is that there are often multiple children in the family with older siblings who can and do help their younger siblings."
Dr. Barbara Boone, Principal Investigator and Director of the Ohio Statewide Family Engagement Center echos this dilemma. "We saw our schools and families working together through the challenges we all faced when schools had to shift to remote instruction last spring. Ohio families rose to the challenges of supporting learning in their homes, many of us in the midst of job loss, changed working spaces, without access to the Internet, and with seemingly unending uncertainty. We learned that families were experiencing additional expectations for supporting the instruction the school was providing because their children were at home. At the same time, families had less margin for time, money, and stress.
If you are a parent of three children in multiple grades and each of their teachers uses a different way of teaching, different websites, different ways of communicating updates, a parent could have to connect with 30 different platforms. We developed an organizer that helps teachers organize all of the activities and links within each day. Families who have more than one child could be faced with far too many things to pay attention to and shut down because it's overwhelming. Maintaining simplification with families is key. Perhaps we don't send home the macaroni noodles with instructions on how to glue it on the page. Rather, read an engaging book with your child. Let your child draw, and have conversations about what they're learning. Those activities can be very powerful."
Gimbert's team partnered with school leaders to support both teachers and families to develop a consistent Google Classroom template and navigation across grades. Families should be able to see the link up in the top left-hand corner and know when clicked it leads to the weekly schedule. Teachers incorporating the same visual icons to signal activities for reading or math across all grades helps students and families know what to expect.
They also produced short videos for families on topics such as Setting up Time and Space for Learning and Understanding Informal Assessment for children while at home so parents could access the information in multiple formats. These videos are also offered in Spanish and Somali to be meaningful for the families served.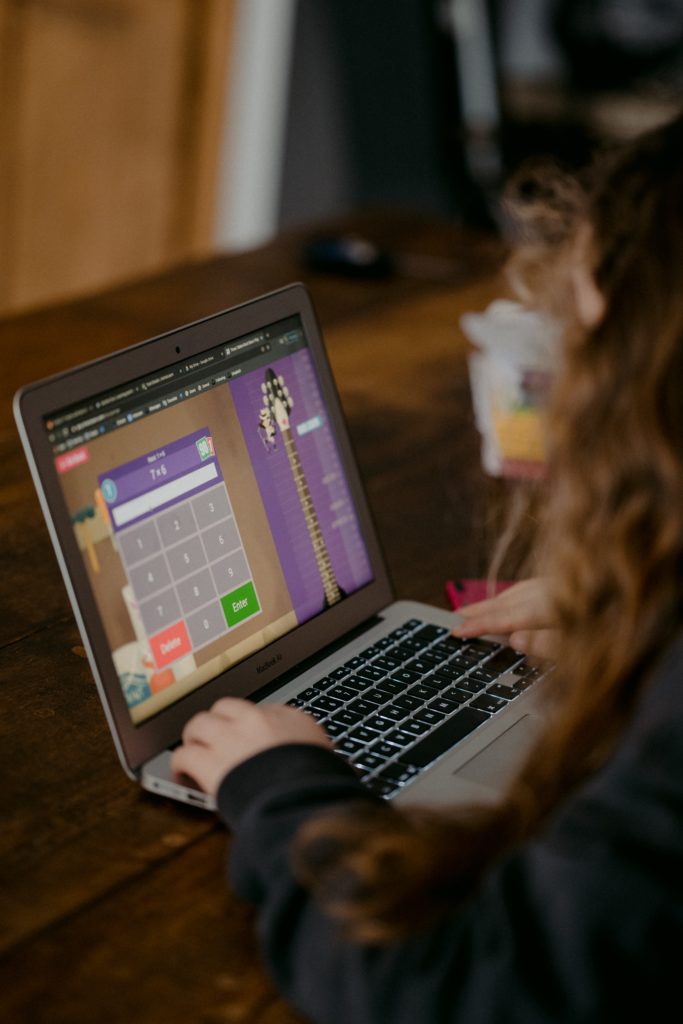 Teachers Helping Teachers
Research shows that emphasizing visual cues is very important in the virtual world of teaching, especially for English language learners. Teachers at Eakin Elementary, a Columbus City School with a high percentage of English language learners, developed two-minute video vignettes for their colleagues covering tasks such as…
putting a web link up in the top left-hand corner
how to do a google slide presentation
using a template for the Google slide presentation and how to change the colors of the background or the colors or size of the font
Designing the visual look of the Google Classroom is one component, but teachers are also asked to focus each virtual lesson on a learning target or goal, and ensure both the parent and the child know what that is. Every lesson is expected to be driven by the standards and then the learning targets, and teachers are exploring ways to transform their face-to-face experiences such as rotating small groups of students through stations, and how to whittle down the virtual tools available to keep it simple.
Assessing how the students are learning is an ongoing priority. "If you are in a classroom it's really easy to do a quick informal assessment by looking at a student's reaction to gauge whether a math concept is understood. It's difficult when you're facilitating learning virtually. A teacher can't get that same physical proximity to quickly ascertain what each child comprehends and ask those important questions to check for understanding. When you ask a student a question virtually everybody else is also hearing and having to wait their turn. In a physical classroom that learning process isn't interrupted." Gimbert states.
Teachers are now finding new strategies to converse with their students through the computer or tablet screen. Gimbert shares a concept called Community Circles, designed for the social-emotional learning perspective, is being adapted "The best way for English language learners to expand their academic vocabulary by conversing. One positive side of learning in the virtual world is the strong reliance on oral communication. It's more accentuated. Teachers are using community circles to have classroom meetings to increase the academic language skills of English language learners."
Empathy + Communication = Positive Outcome
Effective communication between teachers and families can often be challenging and continues to be a known and complex priority.
"Oftentimes in schools, because of how busy teachers are, we tend to work with families on a problem basis. There's been some research done to look at how our American culture perceives families and schools. In street interviews with people in the United States, what they found was that when you ask about when schools communicate with families, they said they do it when there's a problem. What this showed me is that we don't know anyone there but we're going to get together when there's a problem and figure out how to solve it is right. It's now a shift in moving towards this understanding of how to get a hold of one another early and being proactive about communicating before there is necessarily a problem. The notion of getting feedback from families on how their children are learning at home has always been important, but we haven't always sought it out. Schools are shifting to become much more responsive and people are noticing the importance of building relationships, working together, and engaging in a feedback loop on how things are going." Boone states.
The Family Engagement Program developed the following recommendations for communicating with families.
Determine from the start how you will stay in touch. We have learned if we are too dependent on a phone number for a family, when that phone number changes, we lose touch. Is there a way to reach out over Facebook? Through another parent? Determine multiple touchpoints, but most importantly, ask families how they prefer to be contacted and allow families the choice.
There is no one size fits all. Communication with families has to support the flow of ideas from the family to the teacher and from the teacher to families. While some approaches for two-way communication work for many families say a FaceBook group, there will likely be some families who need a different approach. We have Ohio families who are led by grandparents, families who are new to the US, families who do not have access to the Internet, or who do not have a computer at home. Each school needs a system in place that teachers can access so they can communicate with families effectively and in a way that is accessible to the families. This means making translation services available and providing time for teachers to spend connecting with families. Home visits are another approach schools can offer when families are not connecting to the other communication methods.
Check-in on a personal level. Teachers are in a place on the front line and have access to smaller groups of students than principals do. Asking questions like "How's it going? Does your child have what they need?" may seem like simple conversation starters, but the ability to engage with the responses can positively impact the students. They may hear that a student is having issues with food insecurity or another issue and connect those students and families to community resources. Even if it's not the teacher personally making those connections, they can leverage the school counselor, the school social worker, and other student support systems because they're hearing it.
If at first, you don't succeed, try, and try again. The message of "I'm not going to give up on you or your child" from a teacher reinforces the concept that we are in this together. Mistakes will be made, we will learn from them, and will try new ways of doing things until we find the way that works.
Offer live check-ins. Families want to be able to ask questions and get updates on the child's learning and are looking to know that teachers are accessible to them in some way and how they can contact them.
The new conditions have encouraged teachers, families, and children to reimagine how we communicate and focus on the positives.
Rebecca Parker, Project Lead for Learning, School Leadership, and Professional Development, states"Originally we asked how are we going to support teachers and families and what kinds of things can we learn from each other? Having moved into the virtual space has allowed us to collaborate with colleagues, students, and families in ways we could have never imagined. It's broken down walls because everyone is acknowledging we are all in this together and need to help one another find the way. Nobody is pretending to know it all and more people are comfortable saying, I need help."
Boone acknowledges the shift into a healthier communication space. "There's a lot of good things happening, maybe even healthier communication between schools and families, not because we realize how much we need to do it and be because the information is changing so rapidly. Handing out a school handbook from last year may not be an option, so it's time to reimagine the basics. Everyone is being asked to navigate this environment and support kids in a way that's not a roller coaster ride and to do together in a way that we feel safe, stable, and informed."
Although incredibly overwhelming on so many levels, the opportunity to reimagine everything from the basics to the most complicated may position The Center on Education and Training for Employment as a Translational Research center poised to be nimble and evolve in real-time to meet the needs of our families and communities.