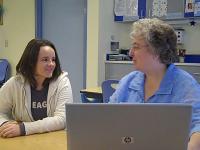 Best practice has been a topic of great concern and interest in the field of early childhood education. Some argue that best practices can be somewhat ambiguous given variables in children's needs, interests, and ideas and in teachers' practices that respond to such variables. However, some can argue that there are a set of specific qualities and characteristics that exemplify best practice. The early childhood Quality network (ecQ-net), at CETE, offers a state-wide mentoring and coaching framework with the mission and vision of providing support to early childhood professionals in their delivery of developmentally appropriate, culturally relevant, and inclusive practices that all work to support the ambiguous understanding of best practice.
What the Experts Say
Many theorists, authors, and researchers have addressed the idea of best practice for early childhood education. Some have likened best practice to the term intentional teaching. Ann Epstein (2013) in The Intentional Teacher: Choosing Best Strategies for Young Children's Learning defines an intentional teacher: "Thus an 'intentional' teacher aims at clearly defined learning objectives for children, employs instructional strategies likely to help children achieve the objectives, and continually assesses progress and adjusts the strategies based on that assessment."
Epstein's work supports the idea that intentional teachers must give explicit and planned consideration to children's needs, interests, and learning goals. Her efforts also highlight six key areas that can be identified as principles of best practice:
planning curriculum
structuring the physical learning environment
scheduling the program day
interacting with children
building relationships with families
assessing children's development
These key areas and Epstein's definition of an intentional teacher support ecQ-net's vision of providing quality professional development experiences that include both evidence- and research-based practices for our coaching teams.
Ohio's Response to Best Practice
Through various grants and initiatives, the state of Ohio has given ecQ-net the opportunity to provide a mentoring and coaching framework that supports best practices as defined by such experts as Epstein. The following five coaching strategies have served as the foundation for our mentoring and coaching efforts:
Appreciative Inquiry – recognizing the need for change via a strength-based approach
Differentiated Coaching – considering personality and learning styles of coaches and protégés while coaching
Instructional Coaching – recognizing and forming a partnership approach to coaching
Cognitive Coaching – offering questioning strategies to spark reflection and transformation
Content Coaching – identifying specific content for the coaching focus that aligns with coaches' and protégés' goals and interests (i.e., literacy, math, classroom management)
As our coaching teams work to implement such strategies we see positive results that are both qualitative and quantitative. Our mentoring and coaching framework continues to allow early childhood professionals opportunities to acknowledge their current knowledge of best practice, reflect on current and future practice, and in turn transform practice.
In addition, Ohio has made efforts to create and adopt tools that assist in measuring and defining early childhood best practices. The Early Language and Literacy Classroom Observation (ELLCO) and Early Language and Literacy Reflection Tool (ELLRT) are two that have informed much of the content for ecQ-net's coaching teams. These tools assess, identify, and support best practices as they relate to language and literacy. Our coaching practices include these tools as a way to informally assist our teams in guiding the relationship in the creation and implementation of specific goals, actions, and outcomes in the content of language and literacy. The state continues to provide and support many other tools that assist in defining best practices for early childhood education.
The topic of best practice in early childhood education continues to be hotly debated given its ambiguity. In collaboration with other state affiliates, ecQ-net continues to offer a mentoring and coaching framework that supports early childhood professionals in identifying and exhibiting best practices that continue to be defined as developmentally appropriate, culturally relevant, and inclusive of all learners.
References
Epstein, A. (2013). The Intentional Teacher: Choosing Best Strategies for Young Children's Learning. NAEYC. Washington, DC.
Knight, J. (2009). Coaching: Approaches and Perspectives. Corwin Press. Thousand Oaks, CA.
Contributor: Sarah Smith