Written by Marcie Kamb, March 10, 2020
Priscilla McMaster started her experience as an artist as a design manager for Proctor and Gamble in the package design department. She helped set up an office in London in their marketing and research office and served as the design manager for several years. She then moved to Geneva, Switzerland for a short time and had her first painting featured at a show.
"At that time, I didn't think of myself as an artist. Somebody got my name and asked if I would be willing to paint something for a show. That night I came home and I said, I'm going to paint something. It's always easier to do for someone else because they needed it and I felt like I was helping. So, I sold my first piece and was then commissioned to create three more pieces. That was the beginning of it all."
McMaster spoke about a trip to visit six different sacred sites throughout Mexico, Guatemala, and Honduras. One of the sites inspired the piece "Breezin' in Lake Izabel". "It was a field of color and I remembered seeing colors you just don't typically see. I almost don't have the words for it because it was so amazing. It felt angelic to me so I included drips and the little beads, almost like they were flower petals. It was just such an unusual and special place." McMaster said.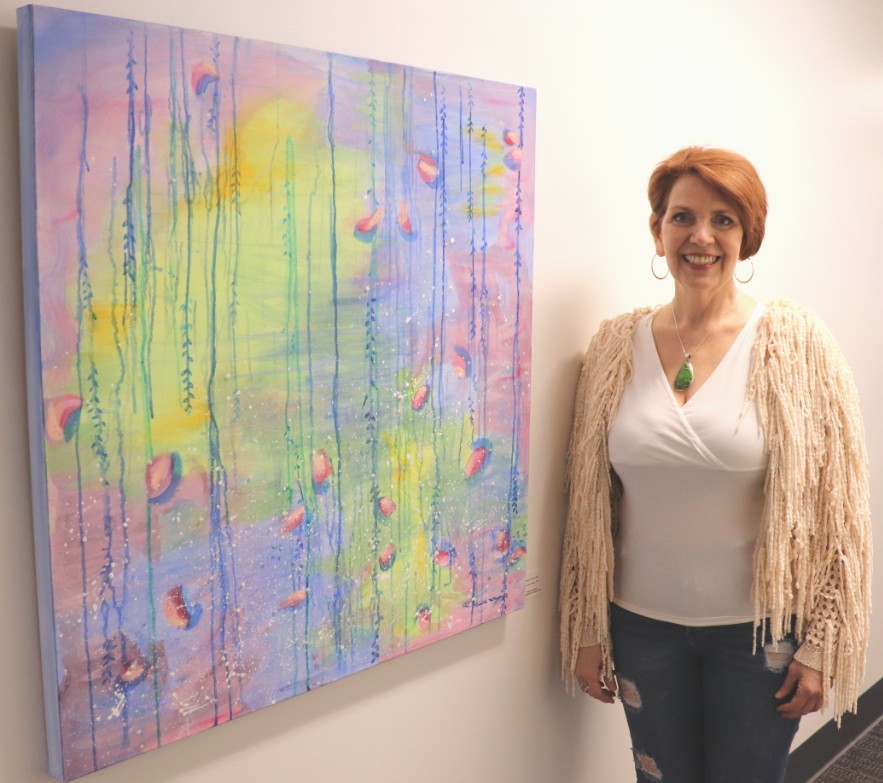 "Conventional art started to become it feel a little bit like a shoe that was too tight. As part of my spiritual practice for many years, I have intentionally examined beliefs and ideas and worked to eliminate them to open up space for new doors and new ideas. There is a willing suspension of disbelief because I don't have an idea where I'm starting. I will center myself and tune in to my heart and see what wants to come. I might write some words on the canvas. There an intention, and no intuition, and then I'll start painting over it with a background, you might not ever see the word."
McMaster described the way her ideas influence the canvas and the way the canvas influences her. She tries to remove herself from the process through meditation. "I choose some colors for the background that delight me at that moment. I then let that color dry and then I start layering on, and I do not know what's coming. I surrender to trust and allow myself to receive acceptance without tension."
Priscilla's art can be purchased by contacting her at priscillamcmaster@gmail.com.