Written by Marcie Kamb, March 4, 2020
Artist Kaitlin Hennessy grew up in Ohio and always used painting as a way to express herself and help people grow through life's challenges. She started her career with painting custom shoes and shirts for friends at Marshall University in West Virginia which led to a very active online Etsy store. "I was selling a lot of custom shoes for sports teams. Then chewy.com, an online pet supply retailer, contracted with me to start painting pet portraits. At one point I was working on between 15-20 pet portraits per week."
Hennessy continued her artistic journey by way of Nashville, Tennessee where she attended graduate school and turned to music for inspiration, particularly in sound lyrics. She loves painting skylines of cities where she lived and loves the artistic freedom to be creative with skylines and adding special touches to them.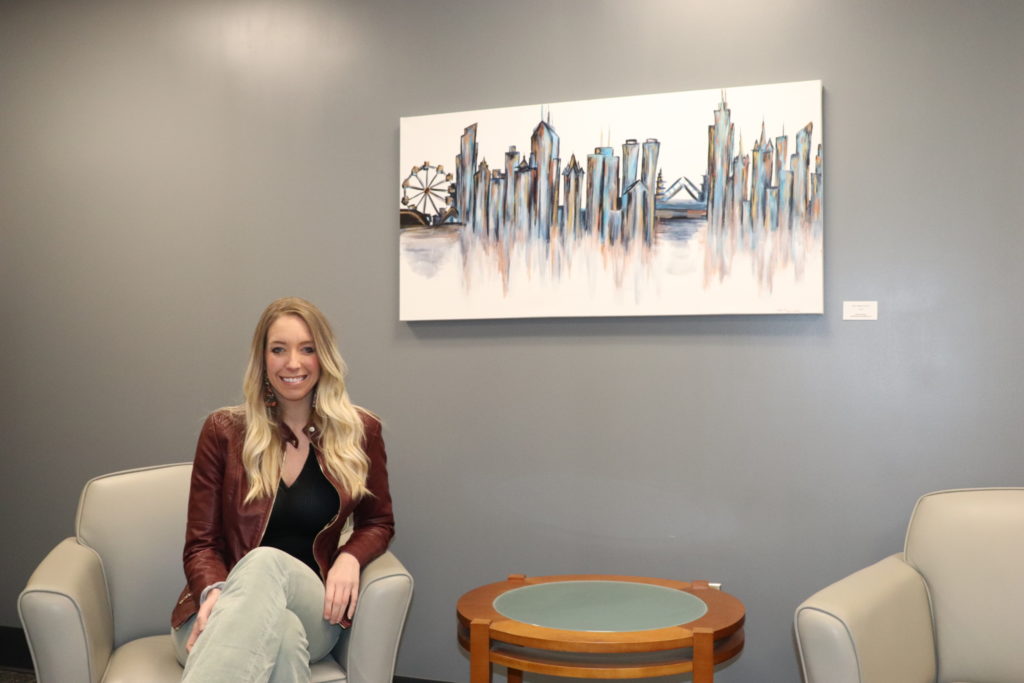 "This piece is the Chicago skyline. I was particularly interested in using shades of blue and rose gold. I have pieces in my studio right now that are hanging up and I'll just randomly take them down and start adding to them or I'll take pieces down and create something completely different over them. I have four commissioned pieces that I'm working on and they're all at the point of just needing a few final touches, but I'm procrastinating the last touches because I want to keep working on them." Hennessy stated.
She has transitioned to working as a full-time artist and is open to different opportunities for commissioned artwork. Although she is highly skilled in creating custom shoes and jackets, pet portraits, and cityscapes, Hennessy thrives on the challenge of taking on a new project that has never done before. "I like figuring out how to do new things and pushing through failures."
Her work can be viewed on Instagram and purchased through her website.