At CETE, associates strive to improve their own work as they often seek out others working in similar fields to collaborate with and share ideas. One of the ways CETE associates such as Alicia Willis, Greg Nagy, Sean Hickey, and Tricia Hughes-Fitzgerald do that is through the Instructional Design Cohort.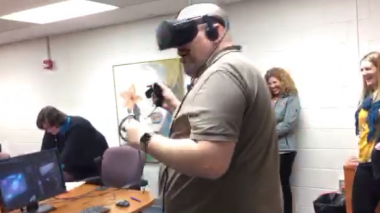 Created in December 2015, the cohort creates a space for Ohio State employees to share best practices, learn from each other, prepare for what is next in the field, and work through issues that may arise during the design process. Each monthly meeting at CETE allows members to present things they have recently learned, share about conferences they have recently attended and presentations they have recently given, design challenges they have resolved, and ones they are currently facing. They prefer to conduct these meetings in person in order to more easily share what they're working on and to be able to test out virtual reality equipment or other hands-on activities.
Regular contributors to the cohort work across campus and include other staff members from the College of Education and Human Ecology, Human Resources, and the Wexner Medical Center. At CETE, multiple projects use instructional design to create content, restructure information, plan educational experiences, and develop training modules (online and print) for both internal and external clients.
This instructional design cohort is for anyone who is currently an instructional designer at Ohio State, designing online learning experiences, or developing training/mentoring programs. Its focus is on the software used to create digital learning rather than the learning management systems that host them.
For Willis, leading this cohort has allowed her to strengthen her own e-learning skills, and reach out to and work with people she can learn from. It has introduced her to people who keep her informed and help her pay attention to what to consider while she is designing instruction.
If you are interested in joining this cohort, or learning more about it, and the work it does you can email CETE associate, Alicia Willis at willis.483@osu.edu.
Contributors: Jessica Hurtt, Alicia Willis, Ana-Paula Correia