Summer Internship Program
The internship program at the Center on Education and Training for Employment offers Ohio State students a unique opportunity to learn from an educational research & development organization. The fundamental work experience and solid professional training that interns gain through this program creates a strong foundation for their up-and coming careers.
Each intern is assigned a mentor(s) and will work primarily within one of the Center's research teams on topics ranging from assessment, community engagement & evaluation, curriculum & training, and family engagement. Working in these teams, interns will help  develop curriculum, assist in conducting training workshops, create learning materials and assessments, and interact with visiting scholars and professionals from around the globe.
Internship Experience
Students apply the knowledge and skills that they have learned in a capacity that advocates for success and advancement. Additionally, they have the opportunity to develop professional contacts, expand their professional network, and strengthen their résumé in preparation for their future careers. Along their journeys, the Center prepares interns on how to navigate professional workplaces, develop an understanding of day-to day tasks and expectations in educational research & development organizations.
Through first hand work with professionals, interns will experience a multitude of real-time fundamentals of communicating with educational leaders and engaging with the Center associates on a variety of projects and tasks. More importantly, they will be involved in making a positive impact in the world!
Qualifications
College Sophomore or higher ranking
Minimum grade point average of 3.0 or higher (for both undergraduate or graduate students)
Applicants should have excellent communications and critical-thinking skills and be able to multitask and thrive in a fast-paced environment
Applicants must pass a Background check

While a strong interest in educational research & development is preferred, applicants may major in related fields, such as, computer science, information technology and other STEM disciplines, psychology (notably industrial/organizational psychology), public relations, English, communications, and design.
All majors are welcome to apply!
Program Description
The Center on Education and Training for Employment hires students for semesters that mirror a standard academic calendar. Students hired at the Center for the summer will work as a student assistant or student associate. The Summer Internship is classified as part-time, but it is a paid position.
Deadlines for Summer 2021
Application Deadline: February 8, 2021
Internship starting date: May 2021
Application Submission
If you are interested in an internship with the Center on Education and Training for Employment, please submit your résumé and letter of interest to Sara Owens at owens.1174@osu.edu as two separate email attachments. Please state any current positions held at the Ohio State campus in your letter of interest.
Any further questions about this program can be directed to Sara Owens.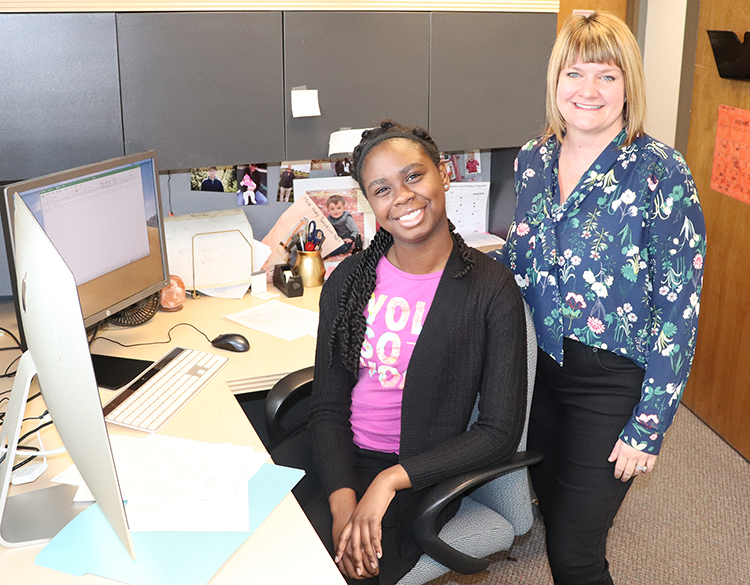 Marcie Kamb working with Cristo Rey Columbus High School intern, Brianna Bollers.
"My 2019 summer internship with the Center provided me with a valuable opportunity to work in the field of education. Not only was I able to contribute meaningful work to advance the Center's goals, but I also developed professional skills that I can carry with me to future jobs. I was able to further my knowledge about Qualtrics, a survey platform, by developing a survey that was sent out to Career and Technical Education teachers throughout Ohio to prepare for the Assessment Program team's item-writing workshops.
I hope to continue working in the field of education, and my time at the Center not only increased that passion but also equipped me with the tools I need to do so. Apart from the tangible skills that I developed, I also created professional connections that will only aid me as I move forward in my career. I am so thankful to have been given such a beneficial opportunity and glad that I was able to make the most of it!"