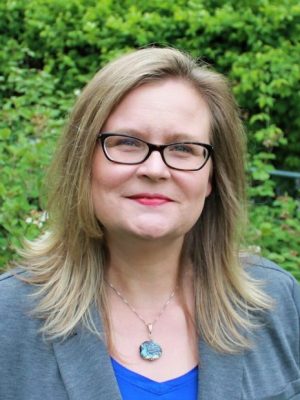 Traci Lepicki, MA, is the Associate Director of Operations and Strategic Initiatives at the Center on Education and Training for Employment, where she oversees daily center activities and manages key center-wide projects. Traci received her BA in Psychology and MA in English Language and Literature from The University of Toledo. This combination of educational experiences and her participation in a variety of professional roles have allowed her to be an active strategic planner, educator, and leader of the center's curriculum and training team, leveraging her 20 years of experience in adult education through developing and evaluating programs, training and coaching teachers, and disseminating instructional best practices. Traci's current work emphasizes adult learning and technical skill development within the context of career pathways.
In recognition of her center leadership, Traci received the College of Education and Human Ecology Distinguished Staff Leadership Award in 2017.
Traci has published on the topics on the use of needs assessments to determine training requirements, Ohio's direct service competency models, and the use of needs assessments to determine the purposes and models of educational evaluation and human performance interventions. 
Traci enjoys reading, improvement projects, and running in local races. She recently ran her first Columbus Half Marathon. 
Research Interests
Adult Literacy Tutor/Instructor

Teacher professional development
Curriculum and Instruction
Content standards development

Educational Administration
Educational/Instructional Technology
Vocational Education
Work and Family Studies
Workforce Development and Education